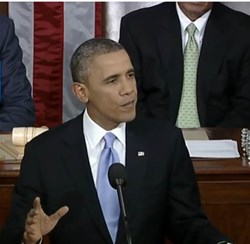 Washington, DC (PRWEB) February 04, 2014
Already during the during the first year of the 113th Congress (2013), water legislation has been working its way through the House and Senate. As one of the topics around which Republicans and Democrats, Senators and Representatives have been able to come together, some examples of water-related legislation under consideration has included:
•the Water Resources (Reform and) Development Act;
•the Farm Bill;
•and the Energy Savings and Industrial Competitiveness (ESIC) Act - which has considered of use of energy for water in buildings and water treatment.
Another theme that appeared prominently in the State of the Union Address was citizenship.
President Obama called Citizenship: "the spirit that has always moved this nation forward ... the recognition that through hard work and responsibility, we can pursue our individual dreams but still come together as one American family to make sure the next generation can pursue its dreams as well. ... Citizenship demands a sense of common purpose; participation in the hard work of self-government; an obligation to serve our communities."
Water appears in many different ways and in many places in Congress - with issues and proposed legislation reviewed in a variety of committees. Congress can be a confusing place - especially for water experts, advocates, and activists who don't work "on the Hill" or "on K Street" or even "inside the Beltway."
Yet there are many other people passionate about water - Water Citizens - who are interested in tracking, testifying on, and transforming water legislation. Water Citizens who are interested in understanding and participating in the legislative process on water issues as an expert, advocate, or activist - working on individually or within a larger association, company or organization - traveling to Capitol Hill or following water-related activities in Congress from home.
The Water Citizen Network created the 2014 Keys to Water in Congress KWIC Quick Guide to Selected Congressional Committees That Address Water to provide easy access to some key information on several of the House and Senate Committees that regularly address water issues and how to find them.
More KWIC guides, programs, and tools will follow to support Water Citizens in understanding the people, the processes, and the ways to participate in Water in Congress.
Free copies of the 2014 Keys to Water in Congress (KWIC) Quick Guide to Selected Congressional Committees that Address Water Issues are available for download for a limited time at http://www.waterincongress.com.