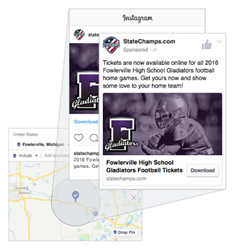 The idea of the FanFocus campaign is primarily to build support for our partner schools, but also to educate athletic programs on how to intelligently and cost-effectively market their events online
Birmingham, AL (PRWEB) August 09, 2016
"Data shows that less than 1% of high schools nationwide actually invest in the online promotion of their events. As a result, attendance is dropping and budgets are stretched thin," StateChamps CMO Eric Housh said. "The idea of the FanFocus campaign is primarily to build support for our partner schools, but also to educate athletic programs on how to intelligently and cost-effectively market their events online."
Housh added that since StateChamps is funding the effort, they can dynamically test and adjust promotional efforts over time for maximum performance.
"Our marketing team has been helping clients of our parent company, TicketBiscuit, leverage online techniques to increase ticket sales for over a decade. We're excited to bring that expertise to high schools nationwide," he said. The campaign will leverage Google, Facebook, Instagram, and even emerging platforms like SnapChat to reach potential ticket buyers.
"We stay well informed of event promotion options and their effectiveness, and we'll put that knowledge to work for all of our partner schools. Basically, by partnering with StateChamps, schools get their own internet marketing team," Housh explained.
Schools who use StateChamps' online solution to sell digital tickets to their athletic events automatically qualify for the campaign. As an added bonus, StateChamps provides free paper tickets to partner schools, to supplement the digital option and support the FanFocus campaign.
Since launching in October 2015, and unveiling their innovative Share and Tear online ticketing technology for high schools, StateChamps has reached exclusive ticketing deals with seven state high school athletics associations, including the Oklahoma Secondary Schools Activities Association (OSSAA). OSSAA Executive Director Ed Sheakley commented that StateChamps' Share and Tear technology "works beautifully," and that StateChamps and OSSAA have a "great partnership."
StateChamps is also currently providing online ticketing services for the Delaware Interscholastic Athletic Association, the Michigan High School Athletic Association, the Nevada Interscholastic Activities Association, the, the Utah High School Athletic Association, the Massachusetts Interscholastic Athletic Association, and the Rhode Island Interscholastic League, as well as hundreds of individual high schools nationwide.
For more information on StateChamps and the FanFocus campaign, please visit http://www.statechamps.com/fanfocus or call 844.50-CHAMPS.