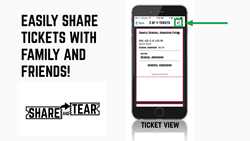 Now, families can buy in advance on their smartphones, skip the line, save their cash, and instantly beam the tickets to their other family members
Birmingham, AL (PRWEB) August 21, 2016
Chief Marketing Officer Eric Housh said that the app was designed with families in mind. "Before we came along, families needed to wait in long lines at the gate for high school athletics events, and then worry about keeping up with paper tickets. Now, they can buy in advance on their smartphones, skip the line, save their cash, and instantly share the tickets to their other family members."
The StateChamps app originally launched in late 2015 to address one very key problem preventing high schools from selling tickets online: ticket scanners. "Schools hate scanners. They are expensive, hard to operate, and they break easily," Housh said. "Plus, they require an internet connection to function. Most schools don't have that infrastructure." The earliest version of the StateChamps app delivered a digital ticket to an app on the ticket buyer's smartphone, which could then be digitally "torn" at the gate – removing the need for scanners. "It works because it's as simple as tearing a paper ticket. Volunteers can be trained in about five seconds," Housh added.
StateChamps' patent-pending Share and Tear technology is also extremely good at eliminating ticket fraud. "The uniqueness and validity of the digital ticket is built in – kind of like a hologram. Share and Tear gives the school a foolproof way to ensure that all digital tickets they accept are valid. Many schools we work with are using our app for activities and events beyond athletics, as a result. It's easier on everyone, and completely secure."
Since launching in October 2015, the company has reached exclusive ticketing deals with six state high school athletics associations, including the Delaware Interscholastic Athletic Association, the Michigan High School Athletic Association, the Nevada Interscholastic Activities Association, the Oklahoma Secondary Schools Activities Association, the Utah High School Athletic Association, the Massachusetts Interscholastic Athletic Association, as well as hundreds of individual high schools nationwide.
For more information on StateChamps, please visit http://www.statechamps.com or call 844.50-CHAMPS.