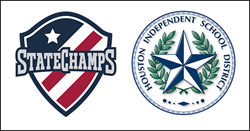 I would recommend StateChamps to Athletic Directors, schools, school districts, or any venue needing to sell tickets for events
Houston, TX (PRWEB) March 09, 2017
"I would recommend StateChamps to Athletic Directors, schools, school districts, or any venue needing to sell tickets for events. By the ticket being in the phone, it allows the customer to have the ticket right in their hand which makes the flow at the gate more time efficient," she explained.
Dambrino added that StateChamps has become a fan favorite as well. "People do not like to stand in long lines at the ticket booth and StateChamps process is so customer friendly. Our crowds loved the process."
StateChamps was selected as the preferred ticketing supplier for Houston ISD after Dambrino and her staff evaluated several other options. "At first, I was concerned we would have to purchase the tickets, scanners, internet service, and other features that would impact my budget. However, StateChamps did not cost us a dime and was successful," Dambrino explained.
StateChamps does not require school districts to purchase ticket scanners or to maintain internet infrastructure for scanning, thanks to patent-pending Share and Tear Technology. Additionally, StateChamps provides free custom-printed tickets for schools. A small fee is passed along to the ticket buyers to cover the cost of the service.
Commenting on StateChamps' FanFocus Campaign, Dambrino added, "The StateChamps team promoted our events through social media platforms and got our fans excited and aware of upcoming events which gave us more time to prepare in other areas for the event."
To date, StateChamps has helped the Houston ISD host over 35 athletic events, including 6 tournaments for basketball and volleyball. One of the more popular events, a rivalry football game between Bellaire High School and Lamar High School, sold hundreds of tickets online, and was supported heavily via social media by the StateChamps marketing team. A custom SnapChat geofilter built specifically for the game was used by over 600 event attendees, with over 44,000 views.
StateChamps Territory Director Kevin Bridges responded to the endorsement, saying "The StateChamps team is grateful for the Houston ISD's support and encouragement, and is excited to continue supporting high schools and athletics in the city of Houston."
About StateChamps: Since launching in October 2015, and unveiling their innovative Share and Tear online ticketing technology for high schools, StateChamps has reached exclusive ticketing deals with hundreds of high schools nationwide, including seven state high school athletics associations. To date, the company has helped sell hundreds of thousands of tickets to high school activities and athletic events. For more information, please visit statechamps.com.