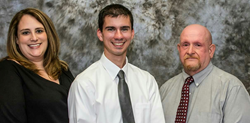 We want to make it as seamless as possible for our clients. Let us come to you.
Fayetteville, PA (PRWEB) August 11, 2015
State Farm's mobile program goes one step beyond the Pocket Agent app to almost literally put an agent in a customer's lap. Using the latest technology, Garrett Hawkins can come out and do an assessment on the spot in someone's home. This allows Hawkins to do what he loves about the job, serving the customer on a whole new level.
Instead of gathering all the paperwork and trying fit it into one folder, now customers can spread out their documents over their very own kitchen table. Garrett went on to say, "We want to make it as seamless as possible for our clients. Let us come to you."
Customers have started to see the benefits of this program, including client, Samantha Bowser. "This is one of the best agencies. They are friendly, efficient, and they will [go] outside the norm to meet your needs."
Services include quote assessment and home inspection, plus questions answered by knowledgeable agents in the convenience of one's home.
Hawkins may not appear in a poof when a customer sings the jingle, but he will gladly drive out to wherever his customers live. This technology allows agents to visit customers that are out of the service areas of other agencies. Providing the best service is a main priority to Hawkins, and State Farm. "The best moments in life aren't just the ones you plan – they're the ones you protect," says Hawkins.
To sign up for mobile services, call Garrett Hawkins at (717) 352-4003.
About Garrett Hawkins, State Farm
Garrett Hawkins is a State Farm Agent celebrating his first year as an independent contractor. Hawkins has been with State Farm since May 2014 and enjoys working to assist customers with their insurance and financial needs. The State Farm office is located at 5125 Lincoln Way E, Fayetteville, PA 17222-1043. Visit his website for more information: statefarm.com/agent/US/PA/Fayetteville/Garrett-Hawkins-fv7jw7c3mak
About NALA™
The NALA offers local business owners new online advertising & small business marketing tools, great business benefits, education and money-saving programs, as well as a charity program.
Media Contact:
Tiffani Tendell
news(at)thenala.com, 805.650.6121, ext. 361