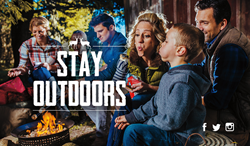 What if there was one website that listed campgrounds where you could search by location and amenities? Imagine how easy that would be.
WAUCOMA, IA (PRWEB) March 09, 2017
Sarah & Mike Jirak fully understand the difficulties faced by travelers and visitors in attempting to find information about campgrounds and resorts. So often the task relies solely on the site owners and managers to get the word out. Wanting to help alleviate that burden and to create a solution that makes it easy for travelers to plan and book their vacations (including themselves), Sarah Jirak explains how the idea of Stay Outdoors came about, "When we were preparing for a trip to Colorado, searching for campgrounds was so time consuming and took me to more websites than I even planned on looking at.
Laying in bed one night, thinking about our upcoming trip, I wondered if there was a "go-to site" for outdoor accommodations. What if there was one website that listed campgrounds where you could search by location and amenities? Imagine how easy that would be. Needless to say, with this idea I couldn't sleep the rest of the night.
I woke up my husband, Mike, and ran the idea past him. Then we both got out of bed and began searching online; neither of us could find anything that jumped out at us. I felt this is one of those one-in-a-million ideas and, though we kept thinking to ourselves "Could this really work?", we decided to actually act on it - thus, Stay Outdoors was created."
Stay Outdoors allows campgrounds and resorts to easily list their properties on a platform which can be accessed by anyone looking to reserve a campsite, houseboat, etc. When you consider that there are more than 30,000 campgrounds just in the United States, it would be a tall order to expect travelers to remember each one of them by name. Now travelers only need to know one place to look: StayOutdoors.com.
Here's how it works:
Campgrounds create a profile of their property, including photos and site specifications, such as dimensions and amenities. There are several payment options including commission on a per-reservation basis or one might opt for the simple annual fee. Additionally there are advertising and partnership opportunities on the website as well as within Stay Outdoors' social media presence. When considering the fact that print advertising is very expensive and the audience is limited, Stay Outdoors is an economical solution for campgrounds and resorts to advertise to those looking to find places to vacation. Entities will also benefit by knowing exactly where the reservation is coming from, as opposed to other sites which do not allow for this.
The site is completely free for travelers. Vacationers enter the geographic area where they wish to camp, their preferred dates, and desired amenities to begin their search. A list is generated of campgrounds and resorts that meet their criteria, and the website user can select, then book, their site.
Jirak details more on the need a website like this, "Having kicked off our social media presence just last year, Stay Outdoors already has acquired nearly 50,000 fans & followers - and that's without a finished product (we just launched our official website to campgrounds in November 2016)! To Mike and I, that shows there is a real need for and highly-desired solution for making camping reservations online…just as there is for hotels, vacation rentals, etc."
To date, Stay Outdoors has been completely self-funded by Sarah and Mike. They have formed affiliate partnerships with other small businesses for software & application development, branding & marketing, and even hooked up with a celebrity spokesperson, "Rowdie" Mitch Goudy, a CMA recognized country recording artist who Rolling Stone Magazine named as one of the 25 Best Things at CMA Fest last year. When asked about Stay Outdoors, Goudy stated, "It really is a great tool. So easy to use whether you're looking to rough it in a tent, take it easy in your RV, or REALLY take it easy at a resort. I am proud to be part of this journey with the Jiraks."
The full website, http://www.StayOutdoors.com, is currently available only to campgrounds in order to acquire and develop a robust database of properties. Within the next few months, the Jiraks plan to release the full website to travelers so they can search and book their outdoor vacations for the upcoming travel season.
"You can't imagine how many times I've heard (Stay Outdoors) is a 'really good concept, I wish I thought of it'. It confirms to me that, when you have that one-in-a-million great idea, you should follow it," says Jirak.