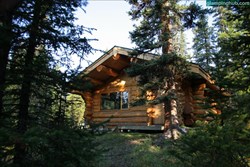 (PRWEB) December 03, 2013
A brand-new study released from the travel startup company Glamping Hub has recently revealed some interesting numbers in way of travelling habits in all of North America. There has been a steady rise within the last 24 months in the number of vacationers who have chosen a destination within a 200-mile radius of their home. That means that while the interest in travel is still very much alive, it's just hitting a little closer to home these days.
This type of trip has been dubbed a staycation, a mish-mash of a word combining "stay" and "vacation," and recently it has gained popularity.
Data from Google Trends suggests the idea of a staycation has slowly been on the rise since 2009, and now according to the study, it's happening again. According to Glamping Hub's report, 62% of customers who visited the site and went to a special page for staycations ended up planning their very own staycation.
The reason for the popularity in this trend could be attributed to the fact that a staycation is less time-consuming than a full-on vacation, as well as less stressful. The people surveyed in this report said they've been given smaller lengths of vacation time off work, and with these little bursts of time off, such as just three or four days, a complete vacation just doesn't make sense.
This spike of interest in staycations shows that, like always, people are extremely interested in travel and getting away for a bit. Due to circumstantial restrictions, though, like not having enough time to make it all the way across the country, more and more people are leaning towards the idea of a staycation.
---
About Glamping Hub
Launched in 2012, Glamping Hub is the world's first online booking platform offering luxury camping and alternative accommodations on all 5 continents. With over 700 unique glamping sites in 57 countries, and a vast range of prices and amenities, Glamping Hub connects travelers with nature in a whole new way, providing off-the-grid, sustainable and truly one-of-a-kind lodging and outdoor adventure in some of the most breathtaking landscapes on earth. For more information, please visit http://glampinghub.com.