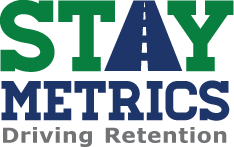 The training we get from Stay Metrics is short, to the point, and very interactive. Drivers love it. They've made comments that it's like playing a video game, but most importantly they truly retain what they are being taught.
South Bend, Indiana (PRWEB) April 26, 2016
Stay Metrics, providers of a unique online rewards, engagement and analytics platform used by motor carriers to retain more of their best drivers, announced the results since launching the innovative Drive Safe training program.
Starting in September, 2015, Stay Metrics began adding a monthly series of training modules to the privately-branded online driver rewards and recognition site it administers for clients in the trucking industry. The modules focus on important and timely topics in Safety and Health & Wellness.
"This engaging and rewarding training experience increases driver satisfaction and retention for our clients," says Tim Hindes, chief executive officer of Stay Metrics. "More importantly, it is helping drivers to be safer and healthier, which benefits them individually and the trucking industry as a whole."
Stay Metrics delivers online driver training to clients through a partnership with Luma, a firm that provides engaging digital education solutions grounded in learning science. The two companies share neighboring offices in the Innovation Park at Notre Dame where Stay Metrics was founded and launched.
Each training module is no more than six minutes long and uses a combination of video, animation, text, audio and interactive game elements that cater to the specific learning preferences of truck drivers. Luma continuously gathers feedback and research from drivers to improve the training experience and create new modules.
To date, drivers have earned 33,500 awards for completing modules in the expanding Drive Safe library. Stay Metrics automatically records the completions, and drivers can re-watch modules at any time. The Safety and Health & Wellness modules have been viewed approximately 100,000 times total.
Jordan Carriers, a 350-truck flatbed operator based in Natchez, Miss., is now using the Drive Safe program for all of its ongoing monthly driver training requirements.
"The online content we used previously was very long and repetitive. Drivers opposed the length and many would not do it," says Injury Management Coordinator Shirley Gurney, RN. "The training we get from Stay Metrics is short, to the point, and very interactive. Drivers love it. They've made comments that it's like playing a video game, but most importantly they truly retain what they are being taught."
With the Stay Metrics driver rewards platform, Jordan Carriers automatically awards points to drivers for completing the training each month. Drivers also earn points in safety, compliance and other categories to redeem on more than 40,000 items in an online catalogue that range from movie rentals to big-screen TVs and vacation packages. "They appreciate their points. They look forward to that," she says. "Our drivers are being rewarded for just about everything they do in their regular workday."
Liquid Trucking, a bulk liquid hauler based in Plattsmouth, Neb., is also using the exclusive Drive Safe training and driver rewards program from Stay Metrics.
"This is the only training we've found that we like," says Jason Eisenman, safety manager of the 150-truck fleet. "We have tried a couple of different services, but the training from Stay Metrics is customizable and tailored specifically to drivers and the topics that are important to them."
About Stay Metrics
Stay Metrics, founded in 2012, works collaboratively with motor carrier clients to solve driver retention challenges. Stay Metrics offers an industry-leading combination of driver surveys and interviews, data analytics, and predictive modeling that helps carriers simultaneously improve financial results and the work-life experiences of drivers. Driver retention rates are further enhanced when motor carriers use Stay Metrics' custom-branded driver loyalty and rewards platform.
Drivers earn meaningful rewards by delivering on metrics that make their companies money by engaging in gamification and educational activities such as safety and wellness programs. Stay Metrics aims to improve truck driver retention by giving trucking companies a platform to recognize and reward drivers, while at the same time gathering business insights from surveys and related research.