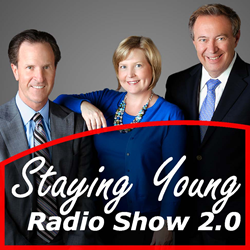 People who have never listened to a podcast in their life, often tell us that a friend or spouse convinced them to listen and then they were hooked.
Dallas, TX (PRWEB) July 23, 2015
The Staying Young Show is a nationally syndicated radio show hosted by the three partners of Stay Young Media Group: Drs. Walter Gaman and Mark Anderson, along with health and wellness expert Judy Gaman. The three can be heard on over forty stations across the country, Internet radio, and by podcast. With the launching of Staying Young Show 2.0 on iTunes, listeners can not only listen to past Staying Young shows, they can now also receive daily Stay Young Medical Minutes.
"The secrets to staying young, aren't secrets at all. Best part - people can listen to this content every day without cost," says Judy Gaman.
The Staying Young Show covers a myriad of health topics, everything from heart disease, to better nutrition, to improving relationships. Guest of the show include well-known celebrities, best-selling authors, and leading scientists. Every show is different, but each show includes features that keep the audience entertained and engaged. "Doc Shock" is something in the news that the hosts find to be either shocking or they are simply shocked that it made the news. "The Immortal Minute" features an anti-aging tip or recent study, keeping with the overall theme of the show.
The trivia on the show has people from all walks of life engaged as they test their own knowledge. The "Medical Mania Trivia" game is played by listeners, allowing them to earn prizes and bragging rights. From time to time, the guests also have Celebrity Edition Medical Mania Trivia.
Perhaps the best segment comes at the end of the show when "Dementia Defender" offers the riddle of the day, a chance for all the listeners to participate and if they get it right, they earn a copy of the hosts' latest award-winning book Age to Perfection: How to Thrive to 100, Happy, Healthy, and Wise. Dr. Gaman, who is usually the straight-laced host of the group, takes the Dementia Defender character to nearly the level of super hero. In his own right, me may be a hero, especially if he can help others keep their minds sharp.
"People who have never subscribed to a podcast before in their life, often say that a friend or spouse convinced them to listen and now they're hooked. We have a very active audience, which makes the show even more exciting for us," states Dr. Anderson. "In addition to our listeners learning, we too learn so much from the caliber of guests we continue to have on the show."
Anyone can listen to the podcasts without being charged by going to iTunes and searching Staying Young Show 2.0 or following the links on http://www.stayyoungamerica.com. Stations interested in carrying the Staying Young Show can also contact Stay Young Media Group, LLC for broadcasting details.
About:
Stay Young Media Group, LLC is dedicated to bringing the highest quality medical information in the most entertaining way possible. The partners, Walter Gaman, MD, Mark Anderson, MD, and Judy Gaman, have several award winning books, are some of the most sought after motivational speakers around, and can be found throughout all avenues of the media. Both physicians are also founding partners of the world renowned Executive Medicine of Texas, which focuses on preventative health and age management. Visit http://www.stayyoungamerica.com for more information.