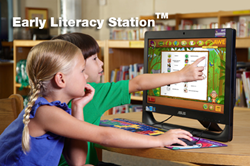 The children in our community love the AWE computers. They are always in use and young children are learning skills while also exploring and having fun. - Maggie Preiss, Childrens Resources & Marketing Manager
(PRWEB) May 14, 2014
The St. Charles-City County Library in St. Charles County, Mo., recently traded in seven AWE educational computer stations for 13 new units including nine Early Literacy Stations™, two Bilingual Spanish Early Literacy Stations™, and two AfterSchool Edge™ computers. The library traded in the existing computers as part of AWE's Trade-In Program for units that are outside of warranty.
The new AWE computers have been installed in five branches of the library system.
The Early Literacy Station (ELS) is a complete computer system designed for children approximately 2-8 years old. It contains over 65 educational programs that offer hundreds of activities. The Bilingual Spanish version features a mix of Spanish-language, English-language, and bilingual activities. The AfterSchool Edge is similar to the ELS but features content for ages approximately 6-12.
On all AWE products, the content spans every curriculum area (reading, language arts, math, science, STEM, social studies, writing, graphic arts, typing, music, and more) and aligns with Common Core standards. They also feature a host of administrative controls including timed sessions and use tracking. They are very safe and secure for children as they do not need to be connected to the Internet.
"We took advantage of AWE's trade-in program to get the latest versions of AWE's computers," says Maggie Preiss, Childrens Resources & Marketing Manager. "The children in our community love the AWE computers. They are always in use and young children are learning skills while also exploring and having fun."
"By adding the Bilingual Spanish edition and the AfterSchool Edge, we now have even more varied resources that will engage children of various grade levels and backgrounds," she adds. "We recently applied for a grant to add a few tablet versions of AWE's digital solutions as well."
The Early Literacy Station, AWE's flagship product, is found in more than 40% of the public library systems across the United States. The Early Literacy Station is available in English, Bilingual Spanish, and Bilingual French.
###
About the St. Charles-City County Library (http://www.youranswerplace.org/)
The St. Charles City-County Library District serves approximately 365,000 people in a suburban area near St. Louis. The St. Charles City-County Library District aspires to provide high quality, customer-centered services that enhance the quality of life in the communities it serves. It circulates over 7 million items and provides direct service to over two million customers who use library facilities each year. As one element of a number of core services, the Library District recognizes the important role it plays in early literacy and preparing children to be ready to learn to read when they start school.
About AWE, Inc. (http://www.awelearning.com)
AWE's mission is to inspire children to become lifelong learners and to create a "community learning" network that includes public libraries, schools, child care centers, and the home. AWE's engaging digital learning solutions feature intuitive learning environments, are easy to use, feature educational content across all subject areas, and can be personalized for every child. For more information, visit http://www.awelearning.com.