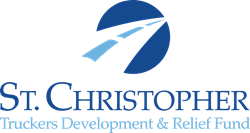 Tragedies in life can happen so unexpectedly and catch us off guard. It is nice to know that there are organizations set up to help in times of need.
Knoxville, TN (PRWEB) January 16, 2014
The St. Christopher Fund has good news to share from 2013! First of all, in 2013, the SCF was able to assist 211 drivers and their families with over $197,000. This brings our total number of beneficiaries to 928, with a total assistance amount of over $552,000. The number helped does not even reflect the number of drivers that have reapplied for assistance (102 in 2013), drivers we've helped with getting other resources, those who were offered assistance but then declined, or medical bill amounts we've been able to get reduced. We feel blessed to be in a position to help so many.
The majority of our applicants are afflicted with cardiovascular disease, injuries, pulmonary issues, and cancer. "It's been one of the best years but the saddest year: the drivers are younger, sicker, more incapacitated, and many are unable to ever drive again. I'm hoping for a better and healthier 2014," said Dr. John McElligott, Medical Review Officer for the SCF. Operations Manager Julie Dillon says, "It's very eye-opening to see so many people out there hurting and in need of help. They are real people to me, just not names on an application, and I'm happy to be here to offer them assistance."
We also want to thank everyone for their donations which allow us to receive notes such as these:

"Tragedies in life can happen so unexpectedly and catch us off guard. It is nice to know that there are organizations set up to help in times of need. Thank you so much and we hope we will be able to pay forward in the future. God bless you."
"I just want to say 'Thank you' for your help when I was going through my liver transplant. I plan to enjoy life again and this is because of your wonderful organization that helped me keep a roof over my head during my crisis."
"Saving lives and families one driver at a time": A motto never fit an organization as well as that one…..thank you to you and all of your co-workers. My wife and I have no idea where we would be without you. "
The St. Christopher Fund is also pleased to announce our newest member of the board, Buck Black. Buck has his Master's degree in social work and is a licensed social worker. In addition to his private practice, he provides coaching for anger, anxiety and relationship issues via email, telephone and Skype sessions. More information about this program can be found on his website: http://www.TruckerTherapy.com.
The Big Rig of Change program brought in 293.6 lbs of change in 2013, bringing the total poundage to 382.2 for a total of $4,458.79. We're still a long way from our 80,000 lb. goal but are greatly appreciative of all those whose pocket change has gone to help their fellow drivers.
The 4th annual Band Together for the St. Christopher Fund campaign, which is run and sponsored by TravelCenters of America, LLC. (operator of the TA® and Petro Stopping Centers®), surpassed expectations and raised $280,157.55. This year's campaign put TravelCenters' total contributions since 2010 at over 1 million dollars. We are continuously thankful for the support of this wonderful company and for all of those that contribute to our cause through the events they sponsor.
We are looking forward to 2014 and have high hopes for helping more drivers, putting in place some health education events, and continuing to gain support from the trucking community. Thank you to all who have helped us fulfill our motto, Saving Lives and Families, One Driver at a Time.
About St. Christopher Truckers Development and Relief Fund
The St. Christopher Truckers Development and Relief Fund (SCF) is a 501(c)(3), nonprofit organization that provides financial assistance to professional truck drivers who have medical problems and are in need of financial assistance. For more information about the SCF or to make a donation, visit http://www.truckersfund.org, send a letter to P.O. Box 30763, Knoxville, TN 37930, call 865-202-9428, or send an email to contact(at)truckersfund(dot)org.