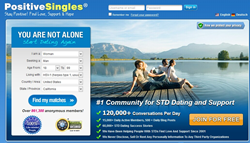 Los Angeles California (PRWEB) March 03, 2015
A recent hot topic (only registered members can reach the page) on the discussion forum at PositiveSingles.com was whether members made lifestyle changes due to having an STD, and what type of changes they made. 75% of participants said that they have made lifestyle changes. This helps them manage their new situation and accept the way things are. 25% said making changes can remind a person about their STD, and they don't want this. They felt changing lifestyle doesn't change the facts, and life goes on as before.
PositiveSingles.com is the largest herpes dating site for people who have an STD, so this discussion was a hot topic for members of the site. Among the people who did make lifestyle changes, the most commonly mentioned area was dating and relationships.
One commenter said that people have to be more picky about whom to date because of the trust issue. A few members said that they only date people who already have the same disease they do, so they stick to STD dating sites like PositiveSingles.com. Another person said they only have platonic relationships now and have been celibate for many years since being diagnosed.
Another area of change was diet and exercise. One member turned to a healthier lifestyle because it led to a stronger immune system that better manages the disease. Other members said they have started exercising more or modified their diet to avoid foods that are high in arginine. Taking the recommended medications and attending support groups were also mentioned.
Among the people that did not make lifestyle changes, some commenters said that they chose to lead a healthy lifestyle, but it was not because of their STD. Other people considered or tried suppression medications but felt that the side effects were too severe so chose not to take them.
About PositiveSingles
PositiveSingles.com is the world's biggest online dating website catering to people with herpes and other STDs. This STD dating site has helped herpes singles to find love for over 13 years. Members on the site find a supportive community of people, and they can make new friends and find herpes dating opportunities.