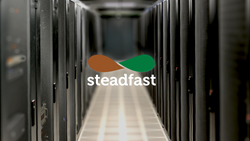 The partner program is a great way to network with other businesses and the IT community, while offering real value to customers across the board.
Chicago, IL (PRWEB) August 19, 2014
Steadfast, a leading provider of private and public cloud hosting, colocation, disaster recovery and managed services, has recently added several new companies to the partner program; Steadfast partners vary, but all offer high quality IT solutions and endorse Steadfast's many products to their customers.
Nick Gongorek, Senior Account and Channel Manager at Steadfast, cultivates partnerships. "My goal is to find the best partners so we can refer customers to a great company when they need a service outside our scope. Partners also refer their clients to us for the best in IT infrastructure and data center services," said Gongorek. "The partner program is a great way to network with other businesses and the IT community, while offering real value to customers across the board."
"The Partner Program empowers Steadfast and Partners to reach a larger audience with a well-vetted, transparent solution for many IT scenarios," said Joe Bong, COO of Steadfast. "Relevant partners are encouraged to reach out and join this growing program."
Several Partners recently reached out to discuss their partnership with Steadfast: Access One, Aqueity, Equilibrium, Giglinx, Trade Futures 4 Less, Two Rivers Conferencing, ManageServe, Prime Telecommunications.
Access One
Headquartered in Chicago since 1993, Access One is a technology company specializing in delivering the full range of high-tech solutions for growing businesses while still providing the unmatched, personalized care. Access one is a provider of Voice, Data, Managed IT, Access Cloud Hosted PBX, Private Networking and Colocation services, and a Winner of the 2014 Silver Stevie Award in the 'Front-Line Customer Service Team' category as well as the 2013 BBB Torch Award for Marketplace Ethics.
"Steadfast's facilities at 350 E. Cermak provide Access One everything you'd expect of a world-class data center, plus the benefit of having virtually every other provider of network infrastructure as a fellow tenant," said John Hoehne, COO of Access One, Inc.
Aqueity
Aqueity works with clients to implement IT tools to boost efficiency, reduce costs and drive revenue. Whether helping clients execute a large project, migrate to the cloud, or by providing IT managed services, Aqueity works hard to accommodate clients' needs and budget.
"Unlike others, Steadfast removes many of the roadblocks associated with moving to the cloud," said Dan Dunn, CEO of Aqueity. "Simple to understand pricing and rapid deployment of cloud solutions makes doing business with Steadfast a breeze."
Equilibrium
Equilibrium is a consulting firm providing comprehensive IT Solutions, focusing
experience on assessing, architecting, project planning, implementing, documenting and supporting systems infrastructure. Equilibrium's team of consultants, architects, technical project managers and systems engineers provide end-to-end integrated business solutions. Equilibrium is entirely vendor neutral; they recommend products and solutions based on their appropriateness to our client's technical, business or lifecycle requirements.
"With the advent of cloud computing, information systems are growing more complex and managing your IT infrastructure is harder. Your IT team is busy reacting to system issues or user support requests, instead of focusing on the important tasks that build real business value," said Glen Hampton, President of Equilibrium. "Sometimes you need outside help; IT professionals you can trust to compliment and supplement your staff…whether it's a one day job, one month project or comprehensive IT turnaround. By working together with both Equilibrium and Steadfast, you get IT solutions that truly solve business requirements yet are very cost effective."
Giglinx
Giglinx provides custom, flexible solutions to businesses of any size, at any stage of growth - from startup through maturity. This flexibility is a key strategic advantage for customers providing the freedom to tailor services, technologies or providers to meet specific business requirements, as they evolve - regardless of where they are in the growth of their network or business expansion. By leveraging solid relationships and investments with world-class service providers, colocation facilities, and content networks, Giglinx delivers the highest quality services in the United States, Europe, Asia, and beyond.
"We are proud to be expanding our partnership with Steadfast. We have worked with Steadfast for the better part of the last decade as a vendor and also recently as direct customer. It only made sense to expand the partnership further to join the partner program and start offering Steadfast's suite of products/services to our clients" said Marcus Mamolen, President of Giglinx Global, Inc.
Trade Futures 4 Less
Trade Futures 4 Less is a futures brokerage firm providing active futures traders advanced trading platforms powered by Rithmic data technology at a deep discount commission rate. Traders are not ranked by their trading activities or account size, as every trader should receive the highest quality service and benefits worldwide. Trade Futures 4 Less caters to the retail traders who are looking for stable platforms, fast execution, and server colocation all at an affordable price. Through exhaustive consulting, the company offers a variety of platforms and data technology to custom tailor the right trading setup for each client.
"I've been working with Nick Gongorek and Steadfast for the past few months, and he's always done a great job of keeping me informed about colocation technology; he is always open to get on the phone with my clients to provide more information to them," said Pratik Patel, Futures Broker, Trade Futures 4 Less. "Nick is willing to go the extra mile to make sure a client is properly set up on their server and will be there if an issue were to ever arise. I personally feel confident working with Nick and trusting him with my clients."
Two Rivers Conferencing
Two Rivers Conferencing is a full service conferencing services provider offering high-quality, easy to use audio teleconferencing, web conferencing, video conferencing services and Unified Communications. Serving all the conferencing the needs of businesses regardless of size, they help clients effectively communicate and share information in ways that optimize time, resources and budgets. With over 25 years of conferencing experience, Two Rivers Conferencing boasts of Always There Service 24/7/365 with no advanced reservation requirement, and real-time assistance with operators when needed.
"The Steadfast and Two Rivers Conferencing partnership is a great opportunity for our clients. With our compatible missions, everyone wins, but especially the customers of both companies!" states Rick Riviere, Managing Partner of Two Rivers Conferencing. Rick adds, "Just like Steadfast, Two Rivers Conferencing is always there for our clients 24/7/365. We offer a full-line of conferencing services tailored to the client's individual needs and budgets in order to maximize their business potential."
ManageServe
ManageServe is an SAP partner, and has worked on over 50 SAP implementations. Offering application support and administration, installation and implementation, platform migrations, SAP data archiving and disaster recovery planning and execution, ManageServe monitors the health of business computer systems 24/7. Redundant monitoring systems and processes ensure uptime; the company proactively monitors and resolves problems before they impact businesses.
"ManageServe and Steadfast announce strategic partnership to enhance and expand mutual services offerings," said Sabir Kapasi, CEO of ManageServe. "The partnership will provide comprehensive services offerings to the current and potential customers of both companies."
Prime Telecommunications
Since 1993, Prime Telecommunications has been a resource for Chicago area businesses to put together all of the pieces of the information technology puzzle. From hosted applications to hosted phone services, back up and database management, Prime provides the right technology solutions for businesses. Staff is comprised of industry veterans – each with over 20 years of experience in telecommunications and connectivity. Our service technicians are comprised of professionals who enjoy being in the forefront of new emerging technologies. Their dedication, combined with the body of knowledge acquired from certified trainings, ensures Prime Telecommunications' customers that their voice and data system and services will be serviced quicker, faster and better, all in a cost-effective manner.
According to Vic Levinson, President of Prime Telecommunications, "We partner with Steadfast because we feel that our goals are aligned. Our role is to take care of our customers to the best of our abilities- with an emphasis on providing the right solutions. Steadfast understands this and enhances the relationship by offering clients superior service with value and integrity. We are local and we like to work with local partners that are also geographically redundant so that we can offer our clients the best of both worlds."
Steadfast is proud of its many partner relationships; if you are interested in becoming a partner, please contact Nick Gongorek, Senior Account and Channel Manager at Steadfast, at 312-602-2689 x227, or nick(dot)gongorek(at)steadfast(dot)net.