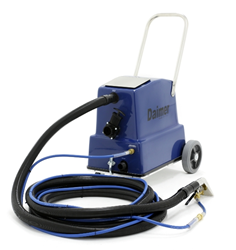 Daimer® is proud to offer a machine that meets the demands of the market for a powerful, compact equipment. The machine is ideal for upholstery cleaning and auto detailing customers.
Woburn, MA (PRWEB) July 17, 2013
Daimer Industries, Inc.®, a leading worldwide provider of many a productivity enhancing car wash equipment, is offering its most powerful yet highly compact carpet steam cleaner. The upgraded XTreme Power® XPH-5900IU offers a pressure level of 170 PSI. The versatile interior car detailing offers the maneuverability and heating capacity similar to other systems of its kind but at a much lower price.
"Our XPH-5900IU carpet cleaners pack more power, but are compact enough for performing challenging cleaning tasks, especially in tight spaces," says Matthew Baratta, Daimer Industries, Inc.® spokesman. "Daimer® is proud to offer a machine that meets the demands of the market for powerful, compact equipment. The machine is ideal for upholstery cleaning and auto detailing customers."
RV detailing professionals seek rugged car upholstery cleaners that deliver efficient cleaning results with greater speed. The XPH-5900IU is specifically designed to help professional RV detailers' remove grime, dirt, food, beverages, and many other stains caused by similar substances from fabric upholstery and carpeting.
The XTreme Power® XPH-5900IU is a powerful RV detailing machine that comes with unparalleled and useful features, such as high temperatures, low flow technology, easy recovery chamber drainage, faster heating times, and lower drying times. The XPH-5900IU offers temperature levels that can reach as high as 210°F within 5 minutes, due to the presence of two powerful inline heating elements, to make the difficult RV carpet cleaning task faster and more comprehensive.
Busy RV and car detailers will find the Daimer® XTreme Power® XPH-5900IU ideal for effective interior car detailing operations because it has many features that they have been demanding for long. The Daimer® car wash equipment offers an upholstery drying time of about one hour.
These advanced car steam cleaners more than meet the operators demand for speedy cleaning of carpets and fabric upholstery in RVs and cars. The equipment also comes with a compact upholstery cleaning wand to remove tiny food and dirt particles which get trapped and deposited in the deeper layers of the carpets and which do not get removed by mere vacuum power. Vacuum cleaners merely remove loose surface particles, but do not actually clean carpeting and seats.
The Daimer® XTreme Power® XPH-5900IU is one of the most high-powered car upholstery cleaners that makes cleaning and maintenance of carpets and fabric upholstery super easy and double quick. It has the power to simultaneously clean stains and extract deposits from carpets and upholstery in cars and RVs.
The machine offers operators an added convenience with 25 feet long hoses for extra reach. Auto detailing, RV detailing, and other applications can be performed without having to move the unit continually. The powerful car steam cleaners can clean carpets up to 2000 square feet area while remaining in one place. This is a highly useful feature for RV detailers who have to take care of large carpeted areas in bigger recreational vehicles.
The company's Eco-Green® Carpet Care and Upholstery Cleaner concentrate is offered for free by Daimer® with all its carpet wash systems during its promotions, to make the cleaning process even more efficient. Two gallons of this concentrate makes up to 64 gallons of diluted solution that can clean a whopping 64,000 square feet of carpeted area. This diluted solution should be pre-sprayed on carpets or upholstery and left for a few minutes. Dwell time allows the liquid, or any chemical for that matter, helps the multi-functional auto carpet cleaner break the bonds between dirt particles and carpet fibers more readily, to deliver enhanced cleaning results. Operators can add chemicals to the water tank, but Daimer® feels doing so will be a waste of money to the users since the solution will be extracted immediately upon impact with the surfaces.
Additionally, the machine's Modular System Design™ (MDS™) and Self-Maintenance Engineering™ (SME™) technologies let the users change a part, whenever required, anywhere in the world.
For Additional Information:
Visit the company's website or call Matthew Baratta directly at (888) 507-2220 for more specific information and pricing on the XTreme Power® XPH-5900IU. The systems are shipped to more than 240 countries worldwide.
About Daimer Industries, Inc.®:
Daimer Industries, Inc.® is a leading American supplier of advanced cleaning machines with exclusive technologies. It offers over 700 models of cleaning systems, ranging from commercial to heavy-duty industrial technologies available in all worldwide power configurations, both 60Hz and 50Hz. Truck mount carpet cleaners, grout cleaning machine models, automobile detailing machines, gum removal systems, and hard floor cleaners are just some of the machines offered by the company. The company's products are designed to handle virtually all major commercial and industrial cleaning applications.