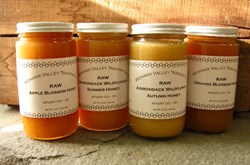 Bradenton, FL (PRWEB) August 29, 2013
On her blog the Steamy Kitchen, Jaden Hair is holding a Giveaway Gift Bundle from Mohawk Valley Trading Company.
This Gift Bundle consists of:
16 oz. Glass Bottle of Grade A, Robust, Dark, Pure Maple Syrup
1lb Glass Jar of Raw Wildflower Honey
1 bar of Goats Milk Lavender Soap
1.5" x 2.5" Beeswax Candle
1 oz. Bar of Beeswax
With an approximate value $55.00.
To find out how to enter please visit: http://www.steamykitchen.com/28345-giveaway-gift-bundle-from-mohawk-valley-trading-co.html.
About Jaden Hair
Jaden Hair is a television chef, food columnist and award-winning food blogger at Steamy Kitchen. She is one of the chef stars on this season's Recipe Rehab on ABC. She appears monthly on Daytime Show, syndicated in 140 markets.
Jaden has been a food columnist for Discovery Health, TLC and for The Tampa Tribune. Jaden is a cookbook author of The Steamy Kitchen Cookbook and the Steamy Kitchen's Healthy Asian Favorites.
Jaden is one of the most influential food people in social media. She has been featured on the Today Show, CBS Early Show, Martha Stewart Living Radio, Oprah.com, and Parents Magazine. Jaden was recently one of the hottest women in food (blush) and also one of the best food bloggers on Forbes.com as well as The Daily Meal.
Jaden is a mom of two little boys, Andrew and Nathan, who love to eat almost as much as she does! Her husband, Scott, is also part of the Steamy Kitchen team; he's the web developer that makes the magic on this site happen, otherwise known as the ".com" of business.