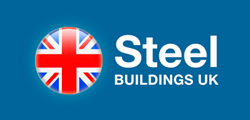 Steel Buildings UK - Steel Framed Buildings for sale
UK (PRWEB) December 18, 2013
Steel Building UK, one of the leading steel building manufacturers that cater to the UK market, provides no-obligation quote to its clients for manufacturing cost-effective steel buildings.
Steel Building UK is a leading manufacturer of steel buildings, catering to the construction needs of UK clients across the nation. The company has just announced no-obligation estimate service, thus giving clients a chance to decide whether or not they wish to proceed with their services without actually paying anything.
Fill out the form at http://www.steelbuildinguk.com/ to get a free quotation from Steel Building UK.
Steel Building UK designs and manufactures top steel buildings in the UK. They offer many services ranging from supply only, Supply and Erection, CAD drawings package, all ground works, complete structural calculations for building control applications, down to submission, planning, and building control. They also provide all structural engineering needs to satisfy the building regulations.
Speaking about their experience in the field, the marketing manager of the company stated, "We aim to provide a simple buying platform for steel buildings designed to your specifications. Our vast experience in this industry ensures that we are perfectly positioned to compile the very best manufacturers of steel building components, providing the highest quality steel buildings available in the UK."
Clients who have used their services in past testify that Steel Buildings UK offers the very best of components in their design and manufacture high quality structures in the most cost efficient manner. Few of their best products are barn steel buildings, steel hangars, steel garages, industrial, and commercial steel buildings.
When asked about their competitive pricing, the marketing manager stated, "Due to our buying power we have negotiated very competitive pricing from our manufacturers, meaning that not only are you receiving the highest quality steel building but also the most cost effective solution."
All those looking for high quality steel buildings to be designed, manufactured and erected anywhere in the UK can take a look at http://www.steelbuildinguk.com/ and request a no-obligation quote.
About Steel Building UK
Steel Building UK is a reputed steel buildings manufacturer that caters to the needs of the UK market in this industry. With its new no-obligation estimation service, the firm aims to boost its turnover by 30% over the coming year.
Log on to http://www.steelbuildinguk.com to find out more info about the firm, and its current offerings.
Contact Information:
Owner Name - Peter Murray
Email Adress - info(at)steelbuildinguk(dot)com
Telephone - 0330 123 0775
Address -
Steel Buildings UK
Burnside Business Court
North Road, Inverkeithing
KY11 1NZ