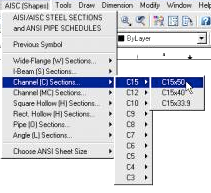 With over a thousand symbols included and categorized this is a no brainer.
Bend. OR (PRWEB) December 31, 2013
The new Steel Shape Symbol Library includes over 1050 symbols, all of which conform with the appropriate AISI, AISC or ANSI structural standard.
Steel Shapes Library users can select the desired steel channel, beam or angle from a simple drop-down dialog menu within their AutoCAD® navigation bar.
All steel shape sections are organized into bundled drawings (called blocks) on a Layer named "0". This way, when a symbol is inserted, the steel beam will inherit the active layers properties. When a block is edited, the steel beams are drawn as polyline entities.
The CAD Company Director, Erik to Z explains, "for CAD users looking for a completely organized steel shape library, there's no need to look any further. With over a thousand symbols included and all completely categorized, this is a no brainer."
The AutoCAD® block library also consists of center-lines (wherever possible) which are drawn on a separate layer which can be turned off if necessary.
The specifications used to develop these steel symbols were derived from the 2nd edition of the AISC Manual of Steel Construction. The library is drawn as accurately as possible using this standard.
The Steel Channel, Angles and Beams include:.

Channels (C) shapes from C3 x 4.1 to C15 x 50.
I-Beams (S) shapes from S3 x 5.7 to S24 x 121.
Wide Flanges (W) shapes from W4 x 13 to W44 x 335.
Angles (L) shapes from L2 x L2 x 1/8 to L9 x 4 x 5/8.
Various. Channels (MC) shapes from MC6 x 12 to MC18 x 58.
Square Hollows (H) sections from H1-1 / 2 x 1-1/2 x 3/16 to H30 x 30 x 5/8.
Rectangular Hollows (H) sections from H2-1 / 2 x 2-1/2 x 3/16 to H30 x 24 x 1/2.
Pipe sections from 1/8 x Sch.5 to 60 x Sch. XH and 8 x Sch. XXH.
For critical dimensions, it is suggested that the CAD obtain a certified dimension sheet supplied from the steel shape manufacturer.
Pull-down menus are also provided with AutoCAD® R14 to 2014, and AutoCAD® LT95 to LT2014.
These pull-down menus are highly recommended in order to locate the symbols and do not interfere with any prior menu customization and toolbar settings.
A free demo is available at SimpleCAD.com by calling 877-933-3929. Remote help and phone support is provided. No credit card info is needed for trial.
About The CAD Company:
The CAD Company is an online warehouse for CAD add-ons and symbol libraries. They are located in Bend, Oregon USA and are open for tech support and sales questions between 8-5 M-F PST.
Tel: (877) 933-3929, or at mail(at)thecadcompany(dot)com