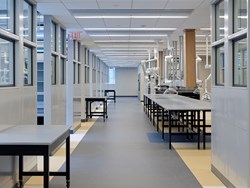 (PRWEB) December 19, 2013
Hamilton Scientific of De Pere, Wisconsin recently completed the installation of steel casework and fume hoods in the new 351,000 sq. ft. Consolidated Forensic Lab in Washington, DC. This new $4.3M lab serves the Department of Forensic Services, the Office of the Chief Medical Examiner and the Department of Public Health. The building rises seven stories above ground; two below-grade levels provide a variety of functions ranging from evidence storage, vehicle exam space, bullet recovery and lab/exam areas among others.
Hamilton Scientific products include flush overlay steel casework that was selected for its chemical-resistance and smooth, continuous surface plane that creates a fresh, contemporary look. Grey epoxy resin work surfaces were also specified for their chemical-resistant properties. The 6" MAX/Wall cores, used to establish fully enclosed rooms, feature a high degree of acoustical privacy. Hamilton Scientific Concept fume hoods, the first to incorporate AutoSash technology to maximize safety and energy savings through proper sash positioning, provide proper containment at lower (60 FPM) face velocities.
The creation of the new Consolidated Forensic Laboratory enables the DC public safety agencies to enhance their mission-critical duties as the Lab streamlines operations between the three stakeholders in a safe, secure environment. Shared space includes a six-story atrium with break areas to encourage collaboration among the agencies, multipurpose rooms, a fitness center, locker rooms and showers.
The Department of Forensic Sciences suite includes areas for evidence collection, handling, analysis, and provides a chain of custody. The suite includes tools for the Crime Scene Services division to conduct extensive criminal investigations, including a vehicle exam bay and booths where investigators can deconstruct and process a vehicle for forensics. There also is a firing range, bullet recovery, fire arms examination, fingerprint examination, blood drying rooms, DNA extraction and examination, trace evidence, and crime scene reconstruction space.
The Public Health lab includes isolation rooms, rabies lab, newborn screening, cell culture, immunology, and a BSL-3 suite so they can investigate, handle, and contain substances or diseases that would pose a threat to the public.
The office of the Chief Medical Examiner contains an infectious autopsy suite built to BSL-3 standards to contain potential disease or harmful substances, an autopsy theater for education and autopsy viewing, two isolation autopsy rooms, an embalming room and an open autopsy area. In addition, there is a 4o Celsius body-storage room with a 190-body capacity, with an additional 20-body storage capacity in the BSL-3 and isolated autopsy storage rooms. The suite also has a full-body x-ray and dental x-ray room with anthropology, histology, and toxicology labs.
The Consolidated Forensic Laboratory project is certified LEED Platinum.
The Team:
Manufacturer – Hamilton Scientific, De Pere, WI
General Contractor – Whiting-Turner, Baltimore, MD
Installer – Mahogony, Inc., Baltimore, MD
About Hamilton Scientific:
Hamilton Scientific is a global leader in the manufacturing of laboratory furniture and fume hoods for the education, healthcare and industrial laboratory markets. Founded in 1880, Hamilton Scientific features highly automated in-house manufacturing capabilities and engineering/design services that allow for consistent high quality products and on-time delivery.
Please visit our LinkedIn page.