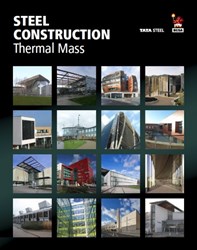 providing construction professionals and students with an up-to-date oversight of the scientific principles involved in thermal mass
(PRWEB UK) 17 February 2014
SteelConstruction.info, the specialist online encyclopaedia maintained by the British Constructional Steelwork Association (BCSA), Tata Steel and the Steel Construction Institute (SCI), has begun distribution of a new supplement to educate and inform construction professionals. The Steel Construction – Thermal Mass supplement will be distributed in the main UK construction press between now and early March, and is also available online from the website http://www.steelconstruction.info.
Thermal mass is the ability of a building's materials to absorb and store heat; used effectively it can reduce cooling loads and therefore be used to achieve sustainability and energy efficiency in non-domestic steel-framed buildings. The supplement explains thermal mass in detail, offers advice on how it can be used as part of a fabric energy storage (FES) strategy and dispels the myth that it is only effective in heavyweight buildings with a large mass, offering a range of case studies to demonstrate.
A spokesperson for the partnership said: "Energy efficiency is a high priority in construction today, as many clients are looking for ways to reduce both their operational costs and their impact on the environment. By taking aspects like thermal mass into account during planning and construction, it is in some cases possible to create a comfortable environment without the need to provide air conditioning, making the finished building much more sustainable and energy efficient. By providing construction professionals and students with an up-to-date oversight of the scientific principles involved in thermal mass, we make this kind of strategy much more accessible and achievable."
SteelConstruction.info is built and maintained in partnership by the British Constructional Steelwork Association (BCSA), Tata Steel and the Steel Construction Institute (SCI) to offer construction professionals and students a wealth of up-to-date steel construction information and advice. Over one hundred interlinked articles written by industry experts and external consultants provide the heart of the site, alongside online CPD topics and external links to related events and training courses provided by the partners.
For more information on thermal mass and the full range of articles please visit the SteelConstruction.info site at http://www.steelconstruction.info.