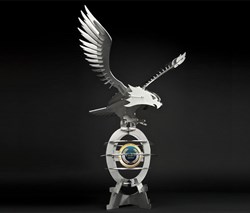 The Inner Workings certified network consists of suppliers that have been handpicked from the best manufacturers around the globe.
Elkhart, IN (PRWEB) December 04, 2013
LF Steelworks, leading American manufacturer of laser cut steel awards joins Inner Workings as a certified supplier. The Inner Workings certified network consists of suppliers that have been handpicked from the best manufacturers around the globe.
As a certified supplier, LF Steelworks will be given the opportunity to provide Inner Workings with product updates via their e-newsletter, enjoy extended access into the Inner Workings vendor portal and garner increased prestige within the exclusive Inner Workings supplier network.
The LF Steelworks product is the first of its kind to join the Inner Workings network. LF Steelworks' custom laser cut Eagle helps Inner Workings provide a unique piece of art to their clients not yet seen in the advertising specialty business.
"We are honored to work with an industry leader such as Inner Workings. We plan to work closely with their supplier relations department and look forward to a mutually beneficial relationship," said Alex Foris, LF Steelworks Chairman.
According to their supplier relations department, "[Inner Workings] project managers are always looking for unique options." They have high expectations of all suppliers and rely on proven processes to ensure the work produced for clients is delivered on time, on budget, and error free. All Inner Workings suppliers are evaluated on eight key performance indicators, and are continuously evaluated through a dynamic rating system.
The Flight of Honor Eagle is a high-quality award that features a stainless steel eagle perching on a globe. The award features a steel-backed, customizable emblem that can be tailored to any company or individual with the option of a full color logo and/or name. The Flight of Honor Eagle weighs 8 pounds, stands a full 21 inches tall and is 12 inches deep with a 17.5 inch wingspan.
About Inner Workings
InnerWorkings, Inc. is the leading, global provider of brand delivery services for a wide range of clients, including Fortune 500 companies and small and medium businesses. We combine technology and expertise to help companies efficiently and consistently execute their brands across branded merchandise, commercial and digital print, product packaging, and point-of-purchase displays.
About LF Steelworks:
LF Steelworks was launched by two American veterans in January 2013. The LF Steelworks Flight of Honor Eagle is a unique piece of artwork created for motorcycle enthusiasts, the military market, and makes a statement as a corporate award. All LF Steelworks products are made in the USA and are customizable. LF Steelworks finds inspiration for the design and creation of the Flight of Honor from family and friends. Avid motorcyclists and veterans of the US Armed Forces, the principal partners of LF Steelworks think there is no better way to continue to pay tribute to hobbies, heroes and accomplishments than with a Flight of Honor. To learn more about LF Steelworks, please visit http://www.lfsteelworks.com.