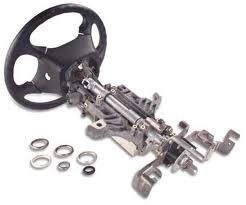 Most drivers think that their steering wheel never needs replaced.
St. Louis, Missouri (PRWEB) August 05, 2013
Automotive companies selling online frequently engage in price wars to market to consumers for the best pricing. One company has used its initial low sticker pricing to attract buyers for its units online. The Steering Columns for Sale company is now announcing the success of its steering column sale at http://www.steeringcolumnsforsale.com/steering-column as the best in company history.
"We've sold only for a few years and are already a top resource for used, aftermarket and rebuilt steering assemblies online," said a sales manager from the SteeringColumnsforSale.com website.
Many local retailers in the automotive industry specialize in parts that are low-cost and can be changed out quickly.
Consumers who have a need to purchase transmissions, engines or steering mechanisms used in vehicles can be without a resource if dealerships are not an option.
"Most drivers think that their steering wheel never needs replaced," the sales manager added. Accidents, vandalism and other deterioration can quickly decrease the operational value of a steering wheel and its entire column inside any vehicle.
The current sale pricing that is marketed on the company website is expected to stay in place through 2014. The success of the sale program is leading to better inventory selections that can be browsed easier online. The integration of database technology has helped consumers decreased time required for researching steering wheel columns online.
The current database allows easy distribution of pricing, shipping terms and warranty information. This program system is a step up from the original e-commerce programming that was in place during the launch of the first edition of the company website.
Consumers interested in the current sale pricing can access any steering wheel column from foreign and domestic automakers online. The database is updated by company staff each day as new inventory changes and other modifications are made for online buyers.
About SteeringColumnsforSale.com
The SteeringColumnsforSale.com company has earned an automotive reputation with consumers for providing quality replacement parts without the high retail cost. This company is staffed by trained experts in the customer support center as well as shipping department. The SteeringColumnsforSale.com company is now one of few placing warranties with all of its units sold. The online tools that have been programmed and launched online keep inventory accurate and simple to access for any in stock columns that are ordered by consumers in the U.S. and Canada.