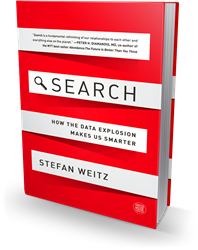 Weitz redefines the term "search" in this thought-provoking debut.
Boston, MA (PRWEB) November 04, 2014
Bibliomotion is thrilled to announce the launch of Search: How the Data Explosion Makes Us Smarter by Stefan Weitz (Bibliomotion, November 4, 2014).
Weitz is a Senior Director in the Search team at Microsoft. In the book, he contends that search is the hinge between human and machine. He believes that increased access to data will make us smarter, happier, and better connected.
"Weitz—director of Bing, Microsoft's search engine—redefines the term "search" in this thought-provoking debut. He envisions search as a virtual entity that will expand well beyond traditional online information retrieval systems and into a digital realm he refers to as the "hinge," which will link the unique capabilities of people and machines, allowing search to work more like the human brain."
– Publishers Weekly
Below, Weitz shares his passion for search technology in an interview with Bibliomotion:
What inspired you to write Search?
SW: Probably my love of science fiction stories in which everyone seems to have access to an unlimited fount of knowledge and insights and machines are more than dumb terminals but rather omniscient assistants. The worlds in these stories often are described in either utopian or dystopian terms – and obviously I want to live in the former. I saw how parts of our world were rapidly changing to enable this science fiction to become science fact but was also cognizant of how decisions technologists, business people and policy makers could pull us away from the more utopian version of the future. The challenge is that all the pieces aren't evolving at the same pace, so I wanted to provide a blueprint (or at least a thought experiment) that would allow us all to see what will be possible given what is happening in technology, business and society. I also wanted to break down the technical jargon and buzz phrases to help people who aren't immersed in the technology world understand both the superpowers these technologies will give us, the responsibilities we will incur, and the massive societal impacts such powers will have.
What was your favorite part of the writing and publishing process?
SW: Definitely talking to people across the globe who are far smarter than me and contributed to so much of the book. I had many ideas for the bones of the book when I started writing but as I interviewed some of the thought leaders in technology, academia and business that you'll find throughout Search, the potential world I was describing became even more exciting. The conversations helped to reinforce my core tenet of the book that the combinations of these technologies and shifting societal norms will give us the exponential advances we desire.
Who do hope reads your book? What do you want them to get from it?
SW: Anyone who is interested in how technology will soon imbue us with superpowers and what the means for themselves, businesses and governments. I was worried that the book would be too technical or wonkish for non-technical people to enjoy, but as I circulated early copies, the feedback was nearly unanimous. I hadn't written a great technical book about search engines, I had written something that showed people what the world could look like in the very near future. People told me it made them think about how they used technology differently, got them excited about when humans and machines would work together to accomplish greater outcomes in every field than history has seen, and also gave them new ideas about companies they could start and how their lives (and the lives of everyone with access!) could change for the better.
Who was your #1 influencer for your work?
SW: Dr. Dean Kamen [founder of DEKA Research and Developments] who builds technologies not just for their own sake but truly as something that can extend the capabilities of the human race. He also is pragmatic about the commercial side of his work that enables him to fund his core research into complex problems like water purification, energy production and prosthetic limbs while getting these innovations into the hands of millions. He is truly our modern day da Vinci.
What are you reading right now?
SW: I seem to have too many books going at once. Right now on my Kindle I am reading:
-The Rise of Superman: Decoding the Science of Ultimate Human Performance by Steven Kotler
-Lock In by John Scalzi
-The Circle by Dave Eggers
-The Centrist Manifesto by Charles Wheelan
-Octopus: Sam Israel, the Secret Market, and Wall Street's Wildest Con by Guy Lawson
About Search:
Search is as old as language. We've always needed to find something in the jumble of human creation. The first web was nothing more than passing verbal histories down the generations so others could find and remember how not to get eaten; the first search used the power of written language to build simple indexes in printed books, leading to the Dewey Decimal system and reverse indices in more modern times.
Then digital happened. Besides having profound societal impacts, it also made the act of searching almost impossibly complex for both engines and searchers. Information isn't just words; it is pictures, videos, thoughts tagged with geocode data, routes, physical world data, and, increasingly, the machines themselves reporting their condition and listening to others'.
Search: How the Data Explosion Makes Us Smarter, the first in the Greenhouse Collection, holds up a mirror to our time to see if search can keep up. Author Stefan Weitz explores the idea of access to help readers understand how we are inventing new ways to search and access data through devices in more places and with more capabilities. We are at the cusp of imbuing our generation with superpowers, but only if we fundamentally rethink what search is, how people can use it, and what we should demand of it.
About Stefan Weitz:
Stefan Weitz is a Senior Director in the Search team at Microsoft and is charged with working with people and organizations to promote and improve Search technologies. While focused on Microsoft's product line, he works across the industry to understand Searcher behavior, academic developments, and innovations from all over the world and, in his role as an evangelist for Search, gathers and distills feedback to drive fundamental Search improvements.
Prior to Search, Stefan led the strategy to develop Microsoft's next generation online platforms and developed Microsoft's muni WiFi strategy and implementation, leading the effort to blanket free WiFi access across metropolitan cities. Stefan has been writing code since he was 8 years old and is fluent in both hardware and software architecture, trends, and potentials. A 17-year Microsoft veteran, he has led various groups in Windows, hardware, Informatics Security, and global business strategy in roles ranging from development to program management, business development to marketing. Stefan holds a half-dozen patents in various disciplines and is a frequent lecturer to industry and academic groups on the future of information storage, retrieval, and usage.
Stefan is a huge gadget "junkie" and can often be found in electronics shops across the world looking for the elusive perfect piece of tech. Stefan also serves on advisory boards for many startups ranging from biometrics to advertising to virtualization, and is an active Angel investor. In his spare cycles, he is working with national educational reinvention groups to reboot K-12 education and is actively advising startups focused on boosting student achievement through technology and big data. He is on the GenCon Board for Conservation International and active in Endeavor Global, a non-profit dedicated to incubating high-impact startups in developing markets.
About Bibliomotion:
Bibliomotion is a book publishing house designed for the new publishing landscape. While many publishers work to retrofit old processes for new realities, Bibliomotion was founded by book-industry veterans who believe the best approach is a fresh one – one that focuses on empowering authors and serving readers above all else. Moving away from the top-down model that has dominated the publishing process for years, we give each member of the team – including the author – a seat at the table from the very beginning and in doing so, work side-by-side to launch and sell the best content possible, making it available in a variety of forms.