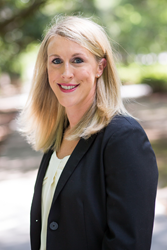 CHARLESTON, S.C. (PRWEB) January 05, 2022
The Steinberg Law Firm is pleased to name Attorney Catherine "Catie" Dunn Meehan as its newest partner. Attorney Meehan is the first female partner at the Steinberg Law Firm. She focuses her practice on workers' compensation and personal injury cases.
Managing partner of the Steinberg Law Firm, Attorney David Pearlman, says, "We are excited about Catie becoming a partner. Catie brings a strength of character, a resolute purpose and a passion to get the job done for people and families who have been ignored, left behind, or diminished due to a severe injury. Catie brings a commitment to the continued mission of the Steinberg Law Firm, and she embodies our slogan of 'Get The Firm Behind You!'".
Catie joined the Steinberg Law Firm in 2013, following her graduation from law school. Catie says, "Becoming the first female partner in a firm that has been in existence since 1927 is an immeasurable personal success. As a working mother, balancing home life and work life isn't always easy, but becoming a partner of the Steinberg Law Firm feels like a true validation of my hard work and dedication to helping my clients. I look forward to continuing to represent injured individuals and to growing the firm, now as a partner. To join a firm that truly cares about helping injured people was a privilege; to become a partner of that firm is the utmost honor."
Catie brings a unique background to her law practice. She worked as a Registered Nurse (RN) for several years prior to attending law school. This experience gave her a deep understanding of the medical field and the injury healing process, as well as the empathy to know what her injured clients are going through. Catie is passionate about advocating for her injured clients' rights because she knows the toll a workers' compensation or personal injury case can take on her clients and their families. She brings her knowledge of medicine and the law together to ensure that her clients receive the best representation in their workers' compensation or personal injury cases.
Catie has been awarded many prestigious honors such as the Top 40 Under 40 award and the Multi-million Dollar Advocates honor by the National Trial Lawyers Association. The Multi-million Dollar Advocates honor goes to a select group of lawyers in the country who have won multi-million dollar verdicts and settlements. Catie has been named to the Best Lawyers list since 2019 and has received the Rising Star for Super Lawyers four years in a row (2018, 2019, 2020, 2021). Catie is also Peer Review Rated by Martindale-Hubbell, an honor that evaluates attorneys based on the anonymous opinions of their peers and members of the Bar.
In 2013, Catie joined the South Carolina Bar Association. In 2021, she was elected council member of the Torts and Insurance Practice Section of the South Carolina Bar Association. She is an active member of the South Carolina Association for Justice, Workers' Injury Law & Advocacy Group (WILG), and South Carolina Women Lawyers Association (SCWLA).
Catie graduated from the University of Notre Dame with a Bachelor of Arts degree. Thereafter, she obtained a Bachelor of Science degree in Nursing from the Medical University of South Carolina (MUSC). After working as a registered nurse for three years, she pursued her law degree at the Charleston School of Law and graduated magna cum laude, earning her Juris Doctor in 2013. While at the Charleston School of Law, Catie was a four-time winner of the CALI Award for Sports Law, Secured Transactions, Legal Research, Analysis and Writing I, and Legal Research, Analysis and Writing II. The CALI Award is given to the highest scoring student in each law school class. Catie now serves on the MUSC College of Nursing Board and the Charleston School of Law Alumni Association Board of Directors.
In addition to her legal work, Catie is active in the Charleston community and participates in several organizations. She currently serves on the Kids' Chance of South Carolina Board of Directors, where she and the organization strive to provide scholarships and support for dependents of South Carolina workers who are seriously or fatally injured in work-related accidents. Catie also volunteers her time with the Junior League of Charleston, an organization of women committed to developing the potential of women and improving the Charleston community.
Catie is the embodiment of what the Steinberg Law Firm stands for by providing outstanding care and consideration to her clients and cases. The Steinberg Law Firm is proud to announce Catie as the newest partner at the firm and is looking forward to seeing all that she will accomplish in her growing career.
The Steinberg Law Firm was founded in 1927 by Irving Steinberg, who was instrumental in getting the first workers' compensation laws on the books in South Carolina. Since then, the firm has carried on his legacy in representing injured people and fighting for the benefits and compensation they deserve. The Steinberg Law Firm handles personal injury, workers' compensation, and construction defect cases and has offices in downtown Charleston, Goose Creek, and Summerville. To schedule a free consultation with an attorney, call 843-720-2800, or to learn more information, visit https://www.steinberglawfirm.com.