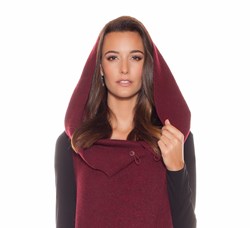 I design for real women who lead busy lives and want to look great effortlessly.
San Francisco Bay Area, CA (PRWEB) August 19, 2013
SF Bay Area designer, Stella Carakasi, announced today that the Fall 2013 Collection is now available online at stellacarakasi.com and in boutiques across the U.S. and Canada, including Stella Carakasi's Stella Studio at 1370 10th Street in Berkeley, CA.
The Stella Carakasi collection is a division of Two Star Dog, Inc. and launched in 2012 to great excitement in the industry. The parent company recently celebrated its 20th anniversary with the grand opening of the Stella Studio. Berkeley City Councilmembers Susan Wengraf and Laurie Capitelli presented the Mayor's Proclamation recognizing the occasion, and further acknowledged the company as a model employer and eco-friendly clothing manufacturer in the SF Bay Area.
"Fall 2013 represents the one year anniversary for the Stella Carakasi collection," says Carakasi, Head of Design and the line's namesake. "I design clothes for real women who lead busy lives and want to look great effortlessly. I am thrilled that our customers appreciate the quality and uniqueness, as well as the comfort and practicality of our line."
The Fall 2013 Collection is yet another reason to celebrate. With Carakasi's signature fabric manipulations, unusual combinations, and unexpected details, the designer successfully demonstrates the line's versatility and reach. This timeless collection layers up and pares down with a perfect balance of confident femininity for women of all ages who enjoy a cool European aesthetic and casual lifestyle.
EARLY FALL: Deep reflective colors inspire the bold watercolor print and gives rise to a line-up of vibrant colors: spicy coriander, warm Tuscan rose, and cool jade. Understated asymmetric seaming gives comfortable jersey tunics and fully fashioned sweaters the controlled volume and interesting drape that demonstrate the designer's flair.
FALL 1: Construction, shape and architecture are the touchstones of this collection, most evident in this season's outerwear. There is a distinct urban feel to the boiled wool jackets. Rich shiraz and a warm golden acacia are this group's color pop, creating a dynamic counterpart to the eminently wearable neutrals.
FALL 2: There is an attitude here: dark impulses bordering on nostalgic romance. The shadowy pallet is simultaneously moody and refreshing; the pieces themselves skew poetic with deep port, matte neutrals, and black, of course. Sheer paired with leather, knit combinations and luxe outerwear freely define a modern style with an unexpected kick.
RESORT: Carakasi pushes the refresh button. Crisp, black and white separates mix and match, while a zingy pop of citron brazenly declares the onset of spring. Carakasi expands on the theme by mixing dressy with casual, and solid with sheer. Clean, modern, and uncomplicated all describe this chic and easy collection.
For more information, go to stellacarakasi.com. Follow our blog at stellacarakasi.wordpress.com/. The Stella Studio address is 1370 10th Street at Gilman in Berkeley, CA. Hours are Monday-Sunday, 11am-6pm. Phone: 510.559.1692.
About the Stella Carakasi Collection
Stella Carakasi is a premium collection of women's clothing that combines European architectural influences and casual elegance. Texture, fabric manipulation, surprise details, and unique combinations together create the special consumer experience that gives true meaning to the upscale boutique concept. Stella Carakasi is a division of Two Star Dog, Inc. and produces eight collections annually.