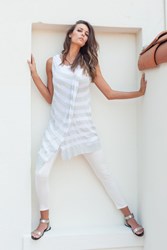 Spring 2014 is all about the balance that comes from opposing elements. Unpredictable and exciting, like the buzz of the city on the first warm spring night…
New York City, NY (PRWEB) September 06, 2013
Stella Carakasi will debut her Spring 2014 lifestyle collection for women during New York Fashion Market Week in Manhattan at the Atelier Designers tradeshow September 16-18. The juried and curated show exhibits international fashion collections of womenswear, jewelry and accessories and is known for modern, contemporary and casual lifestyle looks.
The Stella Carakasi Spring collection launched at the Stitch tradeshow in Las Vegas last month to great acclaim. "Spring 2014 represents our full transition to the Stella Carakasi label," says Carakasi, Head of Design and the line's namesake. "My vision is clear. We are refining our designs, using better fabrics, and fortifying our foundation of neutrals, textures and layers. I am thrilled that our customers appreciate the quality and uniqueness, as well as the comfort and practicality of our line."
The Stella Carakasi collection is a division of Two Star Dog, Inc. (TSD) and debuted in 2012 to great excitement in the industry. Although the label is only one year old, Carakasi has been at the helm for 20 years. She joined TSD in 1993 and quickly made design history as the first U.S. company to create The Original Hemp Jean® and full collections of garment-dyed sportswear made of hemp. With her new collection, the company is now becoming known for its quality, unique fabric combinations and surprise details.
SPRING 2014 is all about the balance that comes from opposing elements; the tension created when opposites attract. Unpredictable and exciting, like the buzz of the city on the first warm spring night.
Compared to collections past, this season is as much about introducing fresh ideas as it is about reasserting house signatures. There's still the trademark masterful draping and asymmetrical cuts that Stella Carakasi has become known for, but the contrast with straight lines and cleaner silhouettes makes these pieces even more compelling, uncomplicated and effortlessly beautiful.
EARLY SPRING: Just as everyone is ready to shed winter layers and dark colors, Stella Carakasi peels back that famous London fog with a color palette that pushes us into spring: vibrant orchid, vivid saffron and French blue reveal themselves through cool shades of grey. Mesh combined with jersey skews sporty and pushes the modern envelope. Sheers in soft French blue slightly obscure but always complement the crisp, chic hues that permeate the collection.
SPRING 1: Everything just clicks. The printed Georgette is perfectly in tune with this season's play on sheer and solid. The palette is cool, modern and wearable. Paper white and half tone neutrals of pearl and mist compliment a rich navy that is the soul of a collection that reads spring but with more of a New York state of mind - Urban cool.
SPRING 2: Effortless sophistication and versatility preoccupy the designer's transition from day to evening, work week to weekend. The colors are a blend of cool neutrals, a fashionable olive drab with a sunset color pop; button details and fabric combinations, crochet combined with solid and printed mesh. The digital print is modern and ethereal. Pixelated colors of summer create a tile mosaic that's refreshing and clean and easy on the eyes.
SPRING 3: There is a sense of lightness-of-being starting with the pared down beautifully succinct color pallet: fossil grey, white and a soft Bermuda blue. Simplicity is the rule and the relaxed mood is sustained by airy casual linen separates. Uncomplicated pull-on-and-go vacation clothes, but with the expected twists turns and combination pieces the California designer has become known for.
This year, the company celebrated its 20th anniversary with the grand opening of the Stella Studio in Berkeley, CA. City Councilmembers Susan Wengraf and Laurie Capitelli presented the Mayor's Proclamation recognizing the occasion, and further acknowledged the company as a model employer and eco-friendly garment manufacturer in the SF Bay Area.
For more information, go to: http://www.stellacarakasi.com. Follow our blog at http://stellacarakasi.wordpress.com/. The Stella Studio address is 1370 10th Street at Gilman in Berkeley, California. Hours are Monday-Sunday, 11am-6pm; Phone: +510.559.1692.
About the Stella Carakasi Collection
Stella Carakasi is a premium collection of women's clothing that combines European architectural influences and casual elegance. Texture, fabric manipulation, surprise details, and unique combinations together create the special consumer experience that gives true meaning to the upscale boutique concept. Stella Carakasi produces 8 collections annually.
About Two Star Dog, Inc.
Stella Carakasi is a division of Two Star Dog (TSD), Inc. based in Berkeley, California. The company was founded in 1993 by Allan and Steven Boutrous, and Stella Carakasi joined shortly thereafter as Head of Design. Two Star Dog began manufacturing men's jeanswear from hemp and other eco-friendly fibers, and was celebrated as an early adapter of eco-fashion. Carakasi went on to create a complete sportswear collection for women and the most diverse catalog of eco-friendly fashion, as well as The Original Hemp Jean®. With over 450 accounts in the U.S. and Canada, the company also creates specialty clothing for private label and catalog companies. Partners Vivian Dai and Jeff Fenigstein joined recently in 2013.
*** END ***