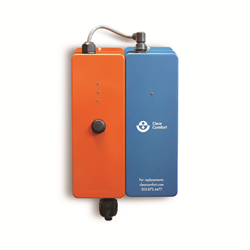 With Clear Comfort's award-winning systems and Stellar Sales is looking forward to expanding opportunities for builders, service companies and retailers to deliver the best water care for their customers.
BOULDER, Colo. (PRWEB) January 22, 2019
Stellar Sales and Clear Comfort announced a partnership to expand the availability of Clear Comfort's market-leading AOP (Advanced Oxidation Process) systems. Stellar Sales will now be the manufacturer's representative of Clear Comfort residential pool and spa systems.
With this partnership, Clear Comfort is expanding its ability to serve industry pool and spa professionals in Texas, New Mexico, Oklahoma, Louisiana, Mississippi, Arkansas and Western Tennessee.
"Clear Comfort's leading AOP sanitation technology is changing the landscape for pool professionals," says Jami Pittman, President of Stellar Sales. "With Clear Comfort's award-winning systems, Stellar Sales is looking forward to expanding opportunities for builders, service companies and retailers by delivering the best water care to their customers."
Stellar Sales and Clear Comfort will showcase their partnership at the Southwest Pool and Spa Show on January 25 to 26, 2019 in San Antonio, Texas. Clear Comfort and Stellar Sales will be featured at booth 717.
"We are proud to be partnering with Stellar Sales an industry leading-firm for pool companies," says Steve Berens, CEO of Clear Comfort. "Stellar's endorsement further adds to the momentum of our solution and brings the benefits of Clear Comfort to a broader set of customers and pool pros."
Clear Comfort's AOP systems use the power of hydroxyl radicals to make residential pool and spas safe and enjoyable for today's health-conscious homeowners. Pools and spas using Clear Comfort can have the best water quality possible with minimal chemical exposure. Clear Comfort systems are in leading universities, resorts, water parks, YMCAs, hotels, recreation centers, spas and homes nationwide.
About Clear Comfort
Clear Comfort manufactures and sells non-chlorine pool and spa water disinfection systems. Clear Comfort's patented hydroxyl-based advanced oxidation (AOP) technology provides the best swimming experience available with proven, effective and non-toxic treatment. With headquarters and manufacturing based in Colorado, Clear Comfort customers receive a sustainable, "Made in the USA" product. Clear Comfort is a proud Impact Driven™ company delivering healthy, ethical and sustainable solutions to the market. For more information about Clear Comfort, please visit clearcomfort.com.
About Stellar Sales
Stellar Sales is a manufacturers' sales agency formed in 1995. Consequently, Stellar Sales is recognized as the most professional, dynamic company in its region. The goal of Stellar Sales, both to its manufacturers and customers, is to grow existing business through introducing new products, servicing existing accounts, and providing ongoing training seminars as needed. Stellar Sales has received numerous awards, such as Sales Representative Firm of the Year, from several different manufacturers.