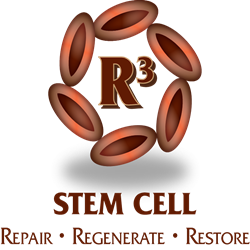 Regenerative medicine marketing is not easy, and R3 Stem Cell has perfected it. Call to find out about exclusive territories!
Scottsdale, AZ (PRWEB) January 25, 2016
R3 Stem Cell is now offering new pay for performance regenerative medicine marketing programs to practices nationwide. The stem cell and PRP therapy marketing programs are pay for performance and help practices build up their patient base dramatically. Call (844) GET-STEM for more information on the programs available.
For years, R3 Stem Cell has been offering educational content and videos on its website. The company works with practices who desire an increase of patients seeking regnerative medicine treatments. This may include PRP therapy, bone marrow or fat derived stem cell therapy or amniotic derived stem cell therapy. The marketing programs focus on all of these treatments, and are geographically focused. Stem cell therapy for arthritis, sports injuries, overuse conditions and more has become mainstream and is highly sought after now by patients.
R3 Stem Cell maintains an answering service which helps answer initial questions and vet the caller's needs. As regenerative medicine treatments are not yet covered by insurance, the target market for these patients is unique. Most medical practices are not familiar with marketing for these types of patients.
The marketing programs are great for practices who are already doing stem cell treatments and want more patients, or for those who are just getting their regenerative program started. As R3 Stem Cell has years of experience working with practices big and small, the company offers significant assistance with all aspects. This includes designing in-office marketing collateral such as brochures and posters along with sales techniques.
Currently, R3 Stem Cell offers complimentary thirty minute phone consultations for new practices interested in the marketing services. Simply call (844) GET-STEM for more information from the top stem cell therapy marketing company.