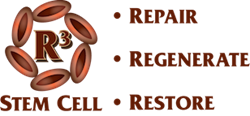 Over 85% of patients at Venturis achieve excellent outcomes with regenerative medicine treatment for arthritis, tendonitis, back pain and more!
Oklahoma City, Oklahoma (PRWEB) February 20, 2017
R3 Stem Cell is now offering regenerative medicine treatment in Oklahoma City with a new Center of Excellence. R3 has partnered with Venturis Clinic, who offers stem cell and PRP therapy along with prolozone treatment by the Board Certified doctors. Call (844) GET-STEM for more information and scheduling.
Stem cell therapy is now mainstream, and helps individuals every day avoid the need for possibly risky surgery. It's helping athletes get back on the field faster, avoid joint replacement and finally achieve pain relief with chronic tendonitis conditions. The regenerative treatments are offered by a Board Certified provider in a contemporary setting.
The stem cell and PRP therapy in Oklahoma City are all outpatient with absolutely minimal risk. Unlike cortisone injections, these treatments actually repair and regenerate cartilage, muscle, bone, tendon, ligament and other damaged tissue.
Minimal down time is necessary after the stem cell therapy in Oklahoma City, which is the opposite of traditional surgery. The treatments contain stem cells, growth factors, concentrated platelets, cytokines and hyaluronic acid. The combination makes for an amazing regenerative environment once injected.
To receive cutting edge regenerative treatment, call Venturis Clinic in Oklahoma City which is now an R3 Stem Cell Center of Excellence at (844) GET-STEM. Also visit https://r3stemcell.com for more information.