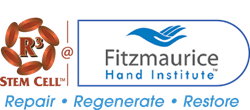 Stem cell therapy for carpal tunnel syndrome offers exceptional relief and helps patients avoid surgery!
Phoenix, Arizona (PRWEB) April 06, 2016
Fitzmaurice Hand Institute is now helping patients with carpal tunnel syndrome avoid surgery with stem cell therapy. Treatment takes less than half an hour and is administered by a Board Certified, renowned hand specialist. Call (602) 351-5131 for more information and scheduling with the top hand specialist in Phoenix.
Carpal tunnel syndrome affects millions of individuals, and all too often leads to the need for surgery. Although the surgery may seem routine, there are potential serious complications that can occur. The surgery may cause patients to be out of work for lengthy periods.
Stem cell therapy, on the other hand, is quick and offers the potential to heal the damaged wrist tissue. This is very different than previous treatments with cortisone, where pain relief was achieved but no actual repair.
Dr. Fitzmaurice has been achieving exceptional results for patients with stem cell therapy for carpal tunnel syndrome, tennis elbow, fractures and all types of overuse conditions. Amniotic stem cell therapy is most commonly used, which is harvested from consenting donors after a scheduled c-section. No fetal injury occurs, and the fluid is processed at an FDA regulated lab to insure safety.
Due to the exceptional results at the Fitzmaurice Hand Institute, R3 Stem Cell has named the Institute an R3 Center of Excellence. The doctor frequently sees patients from all over the country, and consults with other physicians as well. For the top nonoperative carpal tunnel syndrome treatment in Phoenix, call (602) 351-5131 for Fitzmaurice Hand Institute.