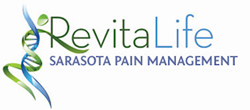 Stem cell therapy for hip and knee arthritis offers dramatic pain relief and typically avoids joint replacement!
Sarasota, Florida (PRWEB) September 23, 2015
Top Sarasota pain management clinic, Revitalife, is now offering several types of stem cell therapy to help patients avoid the need for hip and knee replacement. The procedures are performed by a Board Certified physician, and are partially covered by insurance. Call (941) 404-7640.
There are over a million joint replacements performed every year in America. While the vast majority have excellent results, there are potential significant complications that should make the procedures a last resort since it's elective.
With stem cell therapy for arthritis now being commercially available, the treatments have shown immense success for helping with pain relief and increased function. There are several types of stem cell treatment available at Revitalife. Bone marrow derived stem cell therapy involves a simple aspiration process from the patient's hip, with immediate processing to concentrate the stem cells and growth factors. The material is then injected into the hip or knee at the same setting.
Another option available is amniotic derived stem cell therapy. This involves using amniotic fluid from an FDA regulated lab, which contains a high amount of stem cells, growth factors and hyaluronic acid as well. The material has no fetal tissue or embryonic stem cells at all, removing any ethical concerns.
To date, these stem cell procedures represent the first nonoperative option available that helps to actually regrow tissue that has been damaged by the arthritic process. Steroid injections work well for pain relief, but do not actually help regrow or "fix" anything.
Insurance may cover the workup, imaging studies and office visits, which can help considerably. The stem cell procedure itself is an out of pocket cost. Call (941) 404-7640 to find out more today about stem cell therapy in Sarasota!