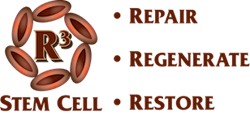 Stem cell therapy typically helps patients avoid the need for joint replacement or soft tissue surgery!
Thousand Oaks, California (PRWEB) January 11, 2017
R3 Stem Cell's Center of Excellence in Thousand Oaks CA is now offering first rate regenerative medicine in Ventura County. Patients are treated by a Board Certified physician in Thousand Oaks with amniotic stem cell therapy at Advanced Medical Solutions. Call (844) GET-STEM for more information and scheduling.
Stem cell therapy has been excellent as an outpatient treatment helping patients achieve pain relief and helping patients avoid the need for potentially risky surgery. The treatment takes less than 30 minutes, and typically helps cartilage restore and soft tissues heal tremendously.
According to a recent Sports Illustrated articles, hundreds of NFL athletes have undergone stem cell therapy for injuries and chronic joint pain to prolong their careers. There is no down time with the treatment and absolutely minimal risk is present.
Patients are seen throughout Ventura County including Santa Barbara as well. Results have been stellar and consistent with the recent presentation at the American Academy of Pain Medicine that showed results better than Synvisc.
The amniotic stem cell treatments have been shown to work well for hip, knee, shoulder, ankle and elbow pain. The Board Certified physician at Advanced Medical Solutions has performed hundreds of the procedures with no adverse events.
For the top stem cell treatment in Ventura County, call R3 Stem Cell today at (844) GET-STEM.