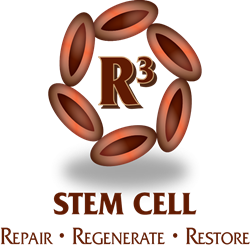 Stem Cell Therapy for Back Pain helps to repair and regenerate both disc and cartilage, relieving pain and helping patients avoid surgery!
Orange County, California (PRWEB) June 16, 2016
R3 Stem Cell is now offering stem cell therapy for back pain at several locations in Orange County including Anaheim Hills, Orange and Laguna Hills. Orange County stem cell treatments are provided by Board Certified providers and are partially covered by insurance. Call (844) GET-STEM for more information and scheduling.
Ninety percent of individuals will suffer from back pain at some point, with an unfortunate few ending up with daily, chronic pain. While surgery may alleviate back pain due to disc or facet related issues, over 40% of back surgeries fail. For this reason, it is best to avoid spine surgery if at all possible.
With stem cell treatment for back pain now available mainstream, patients are able to benefit immensely. This includes regenerative medicine treatments for degenerative disc disease, facet arthritis, degenerative scoliosis and more. There are several treatment options available, including PRP therapy, bone marrow or fat derived stem cell therapy or amniotic derived treatment. These therapies help to repair and regenerate damaged spine elements including disc, cartilage and ligaments.
R3 Stem Cell works with Centers of Excellence in Orange County providing the stem cell procedures with Board Certified and experienced providers. Insurance is able to cover office visits, imaging studies, blood work - just not the injection material.
There have been several studies published showing the benefit of stem cell and platelet rich plasma therapy for reducing back pain, along with increasing one's ability to function, work and participate in recreational activities. Treatment is readily available with the Centers of Excellence, simply call (844) GET-STEM to receive the best regenerative medicine options available.