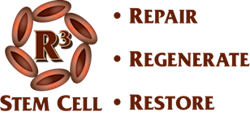 Stem cell therapy for knee pain has been over 85% effective for nonoperative relief and helps patients avoid surgery!
Oklahoma City, OK (PRWEB) March 28, 2017
R3 Stem Cell in Oklahoma City is now offering stem cell therapy for chronic knee pain with excellent outcomes for helping patients avoid the need for potentially risky joint replacement. The procedures are outpatient and performed by Board Certified physicians, call (844) GET-STEM for more information and scheduling.
The R3 Stem Cell Center of Excellence in Oklahoma City is Venturis Clinic, which offers stem cell procedures now for all type of bone, joint and soft tissue conditions. This includes hip, knee, shoulder and ankle arthritis along with elbow tendonitis and rotator cuff tendonitis too.
Knee pain affects tens of millions of Americans, and may lead to disability when it comes to functional and recreational activities. Individuals may not be able to play golf, tennis, basketball, go hiking or other desired activities.
The regenerative procedures being offered may include one's own bone marrow or adipose tissue, or possibly amniotic fluid stem cell therapy. The procedures are remarkably safe, and have been shown to be over 85% effective for long term relief.
Patients are seen from all over the state due to the Center's reputation. Venturis Clinic treats patients compassionately and with exceptional expertise. The therapies contain a significant amount of growth factors, cytokines, platelets and stem cells.
Patients are often able to quickly get back to desired activities, along with avoiding the need for potentially risky surgery. Call (844) GET-STEM to learn more about Venturis Clinic and schedule a complimentary consultation for the top stem cell therapy in Oklahoma City.