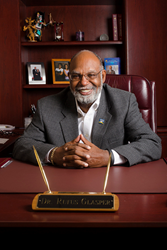 We will continue to work with State officials to ensure that – along with the K-12 and university systems – we can keep Arizona students educated, trained and ready for whatever tasks lie ahead of them. --Dr. Rufus Glasper, Chancellor of the MCCCD
Tempe, AZ (PRWEB) July 10, 2014
As part of the State's FY 2015 budget, the Maricopa Community Colleges received $1.4 million to bolster educational efforts in Science, Technology, Engineering and Math (STEM) and Workforce areas. This additional funding is the first State appropriation for Maricopa in areas of the STEM and Workforce since 2009.
The criteria used to determine the allocation of the dollars within the Maricopa Colleges was predicated on established programs with strong existing partnerships with business and industry and long-term sustainable employment demand. The $1.4 million will be distributed as follows:
1. $400,000 to Chandler-Gilbert College for the updating of labs and equipment for its Aviation and Composite Manufacturing Programs.
2. $400,000 to Estrella Mountain College for the expansion of the Energy Program and a new Pathway program (IT Systems).
3. $400,000 to Mesa Community College for the Additive Manufacturing Program and interdisciplinary 3-D Printing Program housed in MCC's Arizona Advanced Manufacturing Institute.
4. $150,000 for recruitment and student support in STEM programs such as STEM Student Scholar Program and the Hermanas Program.
5. $50,000 for development of a STEM master plan for Maricopa Community Colleges and membership to the STEM connector Association.
"We are grateful to the Governor and the Legislature for making these funds available to Maricopa and for supporting community colleges statewide," said Chancellor Rufus Glasper. "This additional funding will help our students receive the best possible STEM education and workforce training experience to help prepare them for transfer to baccalaureate granting institutions and/or movement into the workforce. We will continue to work with State officials to ensure that – along with the K-12 and university systems – we can keepArizona students educated, trained and ready for whatever tasks lie ahead of them."
###
The Maricopa Community College system includes 10 regionally accredited colleges –Chandler-Gilbert, Estrella Mountain, GateWay, Glendale, Mesa, Paradise Valley, Phoenix, Rio Salado, Scottsdale and South Mountain. It also includes a Corporate College, the Maricopa Skill Center, Southwest Skill Center, and several satellite campuses and business/industry, technical and customized training institutes.
The Maricopa County Community College District is an EEO/AA institution and an equal opportunity employer of protected veterans and individuals with disabilities.