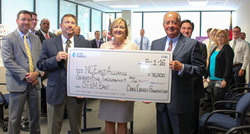 This grant will move our regional work forward and add considerable value in serving our eastern North Carolina public school students and future employees."
Greenville, NC (PRWEB) August 22, 2016
The Duke Energy Foundation presented the Eastern North Carolina Employers & Superintendents Council (ENCESC) with a grant for $75,000 Monday, August 1, 2016. Millie Chalk, Duke Energy District Manager of Government and Community Relations, presented the ENCESC with a check at their August council meeting. The ENCESC is the guiding council for the STEM East Network which supports multiple STEM (science, technology, engineering, math through Strategies That Engage Minds) programs in 11 school districts including Beaufort, Carteret, Craven, Duplin, Greene, Jones, Lenoir, Onslow, Pamlico, Pitt and Wayne Counties. The Duke Energy Foundation is a charter member of the council and long-term partner of the STEM East Network.
Dr. Steve Hill, Executive Director of the STEM East Network, says, "the support we receive from our strategic partners like the Duke Energy Foundation is allowing us to pave the way for a fully integrated STEM classroom to career pathway in eastern North Carolina. We are grateful to have partners that are eager to sustain our initiatives."
Research indicates a significant need for more STEM education in earlier grades and continuing uninterrupted to graduation. Many efforts have been established at higher grades levels that are integrated with both 2-year and 4-year colleges in eastern North Carolina. The grant will allow STEM East to continue the expansion of the public/private network throughout eastern North Carolina and prepare students for success as they enter a rapidly evolving workforce.
STEM East will use the grant to fund STEM education starting in the earlier grades and continuing uninterrupted to graduation. Through a united regional approach, the STEM East Network will continue to address these obstacles with intentional, research-based planning and implementation models that add considerable value to k-12 STEM education.
Dr. Ethan Lenker, Superintendent for Pitt County Schools, and co-chair of the council, stated, "We would like to thank Duke Energy for partnering with our network of school systems and employers.  This grant will move our regional work forward and add considerable value in serving our eastern North Carolina public school students and future employees."
The NC Science, Mathematics and Technology (SMT) Center and the Smithsonian Science Education Center will work with STEM East districts and employers in a Strategic Planning Institute (SPI) for vertical alignment and expansion of a pre-K to career STEM education process. The SPI is a researched model for training and plan development. Network leadership teams will complete a three-day SPI and follow-up events developing a five-year strategic plan. This five-year plan will guide STEM East districts and be inclusive of the existing STEM programs supported by the Network. Vertical alignment of STEM programs between elementary and secondary schools will build a scaffold education structure for students offering relevancy, engagement and clearer STEM career pathways.
About STEM East
STEM East, a component of the NCEast Alliance, a regional economic development agency serving 28 counties in eastern North Carolina, is developing partnerships with manufacturers, hospitals and other organizations as well as educational institutions to improve student-learning pathways that will lead to employment. Through the collaboration of multiple businesses, education districts, economic development organizations, chambers, foundations, state and local governments, utilities, and many others, students will engage in real-world learning modules that directly align with STEM career opportunities in Eastern North Carolina. For more information, visit http://www.stemeast.org.
About the Duke Energy Foundation
The Duke Energy Foundation actively works to improve the quality of life in its communities, lending expertise in the form of leadership and philanthropic support to charitable organizations. Duke Energy has long been committed to building and supporting the communities in which its customers and employees live and work.
More information is available at http://duke-energy.com/foundation
About the NCEast Alliance
The NCEast Alliance is a regional, public/private, not-for-profit, economic development corporation serving 28 counties with approximately 1.4 million residents within several small metropolitan and micropolitan areas in eastern North Carolina from the fringe of the Research Triangle to the Atlantic Coast. The Alliance provides community capacity building, advocacy, marketing/lead generation, and assists companies with site location and expansion evaluations. For more information on the NCEast Alliance, visit us at http://www.nceast.org