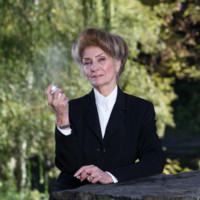 GRANTS PASS, Ore. (PRWEB) March 14, 2019
Date aired: March 11th, 2019
Guests: Dr. Eula Jurkunas & L. DeWayne Cecil, Ph.D.
Do you think you know enough about dry eye disease caused by body water evaporation, which will affect more than 30 million Americans this year and billions more worldwide? Dry eye specialist and talk radio host Sharon Kleyne bets you don't, yet she is doing everything she can to turn that around and save your eyesight, especially from melanoma, macular degeneration, blindness and dry eye caused by water evaporation.
Talk radio host and dry eye foe Kleyne welcomed to her internationally syndicated weekly The Sharon Kleyne Hour Water Life Science®/Nature's Pharma®, The Power of Water® & Your Health sponsored by Nature's Tears® EyeMist® on VoiceAmerica produced by Rose Hong, founder/director of Global Dragon TV in Washington, D.C. Dr. Eula Jurkunas, professor of ophthalmology at Harvard Medical School and Climatologist and longtime NASA advisor L. DeWayne Cecil. The three convened to discuss how stem cells and climate change affect dry eye disease caused by body water evaporation.
Dr. Jurkunas revealed how stem cell research is such a promising field because the cornea possesses its own stem cells and may one day advance treatment for a variety of ocular issues caused by infection, allergies, immunological disorders and chemical burns, among others. "It is an advantage not having to take another person's stem cells," said Jurkunas.
Dr. Cecil has been warning for years that congressional budget cuts are eliminating the satellite coverage we need to be able to predict severe weather and respond efficiently to it. Cecil urged listeners to visit the American Meteorological Society on line to learn more about the climate change and weather issues we now face. "We can't wait!" said Cecil.
Dry eye innovator Kleyne agreed. "You cannot cut the budget for science research, health education and climate change!" Kleyne insisted. "Our number one priority must be getting people healthy!"
Cecil and Jurkunas concur. "Eyes must have good hydration of the tear film," said Jurkunas. "Eyes are unique organs. Unlike other organs, they're transparent and we can see what's going on," Jurkunas concluded.
Kleyne added that education about climate change, general health and dry eye caused by body water vapor evaporation must be greatly improved. "People need to be much more proactive about their health," said dry eye researcher Kleyne. "The doctor is not God. We're all responsible for our own health and health care."
*
If you would like to listen to the talk radio program featuring conversations between Dr. Eula Jurkunas and Power of Water® talk radio host Sharon Kleyne and Climatologist L. DeWayne Cecil, Ph.D. and Water Life Science® educator Sharon Kleyne about stem cells, climate change, dry eye caused by evaporation, body water evaporation and water and health education, follow this link: https://www.voiceamerica.com/episode/113775/encore-ula-jurkunas-md-assistant-professor-of-ophthalmology-at-harvard