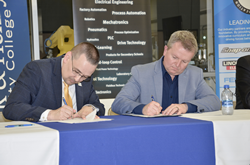 MARTINSVILLE, Va. (PRWEB) May 25, 2022
Patrick & Henry Community College, along with industry partner Festo Didactic, are taking another giant leap forward in their combined efforts to prepare students for the future of work. A signing ceremony was held today to solidify a formal agreement between Festo Didactic and P&HCC that will deepen and expand their existing strategic partnership.
The signing signifies an exciting new chapter for the partners in their ability to strengthen the local talent pipeline by exploring the possibility of extending into secondary schools, and by agreeing to increase overall resources for training equipment and professional development at P&HCC.
"P&HCC's partnerships with Festo Didactic and NC3 have played an important role in the economic renaissance occurring within our service region. This work has been central in our community's ability to land recent major economic development projects," said Greg Hodges, President of Patrick & Henry Community College.
Hodges added, "This expanded partnership between Patrick & Henry Community College and Festo demonstrates the continued commitment our institution has to meeting our region's workforce needs. Career and technical education programs have never been in higher demand, and thanks to Festo and NC3, P&HCC has become a national leader in industry certifications helping to fill these essential pipelines. We're excited to take this work to an even greater level."
Local employer, Warren Rodgers from Ten Oaks, was also in attendance at the signing. Rodgers said, "The NC3 Festo Certified Industry 4.0 associate training provides the foundational knowledge our team needs for troubleshooting, servicing, and maintaining the high-tech manufacturing equipment currently in use, and the additional capital investments planned for the future. We will certainly take advantage of the additional opportunities this partnership offers to grow the skills of our workforce."
In 2020, Patrick & Henry Community College was recognized as an NC3 and Festo Center of Excellence in the Advanced Manufacturing Industry 4.0 sector, making it the first institution in the nation to offer the top tier of Industry 4.0 training available through Festo and NC3.
"The Patrick & Henry Mechatronics, Industry 4.0 Advanced Manufacturing Program, and future STEM Hub is a national benchmark that exemplifies a Center of Excellence culture for world-class instructors, leadership, and facilities," said Roger Tadajewski, Executive Director for the National Coalition of Certifications Centers (NC3).
Aspirations for the STEM hub are well-aligned with Festo Didactic's industry expertise and K-12 learning solutions. Festo's eLearning curriculum, bionics, and hands-on trainers emphasize innovation, problem-solving, critical thinking, and creativity, and focus on three core areas: environmental discovery, mechatronics, and advanced manufacturing. The Integrative STEM program consists of learning experiences in which students apply knowledge to solve real-world problems and provide strong connections in the classroom to actual workplace scenarios, demonstrating what innovative jobs of the future will look like.
"P&HCC is an exemplary school that shares our passion for lifelong learning and supporting career paths that will close the skills gap," said Tony Oran, Vice President of Sales for Festo Didactic North America. "We could not be more proud or more excited to officially move our collaboration forward with Patrick & Henry Community College."
---
About Patrick & Henry Community College
Patrick & Henry Community College is a comprehensive two-year institution serving Martinsville city and Patrick and Henry counties. P&HCC is a leader among community colleges in areas such as athletics, technology, and unique program offerings. By providing innovative curricula such as motorsports, entrepreneurship, and mechatronics, P&HCC changes lives and enriches the community. P&HCC is an EEO institution.
About Festo Didactic
Festo leverages its automation expertise to provide comprehensive industrial and technical education solutions. Festo Didactic is committed to providing educators and employers with the hands-on training, digital coursework, and blended learning solutions needed to close the STEM skills gap. Our lab equipment, curriculum, and certification programs are thoughtfully designed to support various learning pathways and on-the-job training. With 4,000+ FICP certifications and 36,000 Festo-equipped educational institutions, Festo Didactic and its partners are preparing students and employees for the future of work.
https://www.festo-didactic.com/us-en/
http://www.festo.com
About NC3
NC3 was established to help build a workforce prepared to meet the needs of today's and tomorrow's industries by connecting employers and educational institutions in synergistic partnerships that foster effective training, elevation of skilled careers, and employment opportunities. In fulfilling its mission, NC3 builds deep industry-educational partnerships and develops, implements and sustains industry-recognized portable certifications built on national skills standards. We envision an industrial labor market where all workers have jobs they need to thrive and all companies have well-trained employees they need to operate and grow. Learn more at http://www.nc3.net.
Contact
Natasha Gosine
Senior Marketing Manager, Festo North America
905-614-4611
natasha.gosine (at) festo (dot) com
Contact
Rhonda Hodges
Vice President, Workforce, Economic, and Community Development
276-656-0256
rhodges (at) patrickhenry (dot) edu