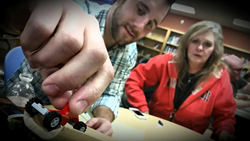 "It's very gratifying to work with a forward-thinking school like John Thomas School of Discovery, and I think that partnerships like these are helping the region to become a powerhouse in the field of STEM education," Andrew B. Raupp, Founder/ STEM.org™
Nixa, Missouri (PRWEB) February 03, 2015
John Thomas School of Discovery (JTSD) partnering with STEM.org™, has become the first school in the State of Missouri to receive STEM Accreditation™.
"We are extremely excited about earning this credential and are looking forward to strengthening the inquiry-based learning opportunities for our students, as a result of this process," commented Dr. Josh Chastain, Principal at John Thomas School of Discovery
Dr. Josh Chastain and Nixa Public Schools have been strong proponents of bringing leading-edge educational methodology into the classrooms as the school works to incorporate new standards and objectives into their curriculum.
STEM is an acronym for Science, Technology, Engineering, and Math and often refers to an approach to teaching that concentrates instruction in those four areas resulting in overall academic success for students. John Thomas School of Discovery is being recognized for their commitment to STEM education as evidenced by their completion of a rigorous STEM-focused series of events, programs, and professional development opportunities as part of the STEM Accreditation™ process. This school-wide initiative helped to create an engaging instructional environment utilizing collaborative and experiential learning activities.
STEM.org™ was established in 2001 with a mission of increasing accessibility to quality education for schools worldwide. The organization recently received U.S. Senate Recognition for working with more than 100,000 students and has impacted schools, districts and organizations domestically and abroad. STEM.org™ strives to improve academic achievement at the institutional level to help students envision themselves in STEM careers through their award-winning staff training, on-demand content development and popular credentialing options. STEM.org™ facilitates interdepartmental communication, builds organizational intelligence and cultivates strategic pathways for future success.
"It's very gratifying to work with a forward-thinking school like John Thomas School of Discovery, and I think that partnerships like these are helping the region to become a powerhouse in the field of STEM education," commented STEM.org™ Founder/Executive Director, Andrew B. Raupp.