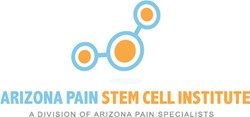 Arizona Pain is offering stem cell therapy for back pain with amniotic derived stem cell injections. The study is subsidized so treatment is very inexpensive!
Phoenix, AZ (PRWEB) November 08, 2013
The top stem cell injection clinic in Phoenix, Arizona Pain Stem Cell Institute, is now offering a back pain research study with amniotic derived stem cell injections. The research project allows the treatment for back pain to be subsidized, with patients receiving the Phoenix stem cell treatment at a significantly lower cost than available at other clinics. For enrollment consideration, call (602) 507-6550.
Back pain affects ninety percent of individuals at some point, with an unfortunate few developing chronic pain. Most pain management to date has involved treatments designed to mask pain, but not actually change the course of the condition. Stem cell therapy for back pain has the potential to alter arthritis while reducing pain as well.
Amniotic derived stem cell injections do not involve fetal tissue or embryonic stem cells, so there are no ethical concerns. The material is processed at an FDA regulated lab, and has been used over 10,000 times in the US with no adverse events noted. For the stem cell back pain research study at Arizona Pain, the project is prospective but nor randomized, so each patient obtains the stem cell injection.
The treatments are administered by Double Board Certified Phoenix pain management doctors as an outpatient. Very little risk is involved and patients are followed up for a minimum of six months after the procedure. In addition to the back pain research study, the Institute offers an extremity joint injection study. Treatments are also offered with fat and bone marrow derived stem cell injections along with platelet rich plasma therapy.
As mentioned, the treatments are not randomized, so each patient receives the stem cell injection. Arizona Pain has 5 locations throughout the Valley, with further information and scheduling at (602) 507-6550.