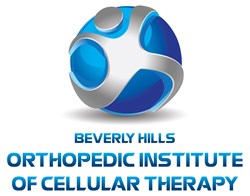 The success rates with the stem cell therapies at Beverly Hills Orthopedic Institute of Cellular Therapy are very high and include PRP along with bone marrow and amniotic derived stem cell injections!
Beverly Hills, CA (PRWEB) October 15, 2013
The leading stem cell clinic in the greater Los Angeles area, Beverly Hills Orthopedic Institute of Cellular Therapy, is now offering patients the opportunity to avoid surgery with outpatient stem cell therapy. The stem cell treatments are offered by a Double Board certified orthopedic doctor and maintain minimal risk when compared with that of surgical procedures. For more information and scheduling, call the stem cell clinic today at (424) 253-5577.
Numerous small research studies such as the one last year at Hospital for Special Surgery have showed the benefits of stem cell treatments and platelet rich plasma therapy for arthritis of the spine and extremity joints such as the shoulder, hip or need. In addition, stem cell injections are also showing excellent results for soft tissue injury such as tendinitis in the elbow, shoulder and Achilles. For example, when the patient has tendinitis or a tear of the Achilles or rotator cuff, stem cell treatments may be able to help prepare and regenerate the areas to avoid the need for surgery.
There are several stem cell therapy options available at the clinic which include bone marrow derived or amniotic derived stem cell injections, along with platelet rich plasma therapy. In certain instances, the Board Certified doctor may find it beneficial to combine the treatment options as well.
The Medical Director at Beverly Hills Orthopedic Institute for Cellular Therapy is Dr. Raj, who for years has been one of America's Top Orthopedists along with an ABC News medical correspondent and an expert consultant on WebMD. He practices in both Beverly Hills and Dubai, offering expert regenerative medicine treatments with years of experience in the field.
Conditions that are seeing excellent results from the stem cell treatments include degenerative and rheumatoid arthritis of the extremities and spine, tendinitis, bursitis, ligament injuries, fractures, and degenerative disc disease.
For those suffering with any of these conditions who would like to avoid surgery with a low risk, outpatient treatment call (424) 253-5577.