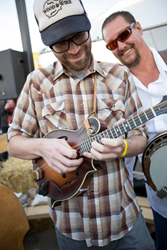 This will be our second Harvest Party and promises to be fun for the whole family.
Denver, CO (PRWEB) September 23, 2015
Stem Ciders, which creates high-quality ciders and is dedicated to reviving the cider tradition, is happy to announce its Fall Harvest Party on Saturday, October 10, from 11 A.M. to 2 A.M. at 2811 Walnut Street in Denver, CO.
"This will be our second Harvest Party and promises to be fun for the whole family," said Eric Foster, CEO and co-founder of Stem Ciders. "Last year we had approximately 1,500 guests, and this year we expect that number to double."
From 11 A.M. to 5 P.M., it's family friendly, with pumpkin painting, cider apple doughnuts, a pig roast done by Bubba Duke's BBQ, an apple pie contest, a craft and food fair and games for kids and big kids alike. Guests who arrive before 4 P.M. get in free.
Music starts at 4 P.M. and price of admission is $10, which includes access to both stages on which a plethora of bands will be performing, a commemorative cup, and first cider. Bands slated to appear include Lonesome Days, Coral Creek, Masontown, Thunder & Rain, Caribou Mountain Collective, Modern Whiskey Market and Chain Station.
"There will also be a late-night bluegrass jam," said Eric. "And, of course, there will be plenty of cider to drink."
For more information about the event, please visit http://www.stemciders.com/.
About Stem Ciders
Stem Ciders is committed to creating ciders of the highest quality that honor the purity and complexity that is inherent to the apple. Stem Ciders holds its growers in the highest regard and by fostering relationships with them rewards their hard work and promotes the regrowth of heirloom apple cultivation. For more information, please call (720) 443-3007, or visit their Facebook page. Stem Ciders is located at 2811 Walnut Street, Suite 150, Denver, CO 80205.
About the NALA™
The NALA offers local business owners new online advertising & small business marketing tools, great business benefits, education and money-saving programs, as well as a charity program. For media inquiries, please call 805.650.6121, ext. 361.