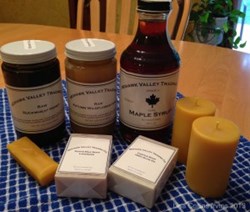 I am happy to announce that we will hosting daily (Monday-Friday) giveaways beginning September 10th on stephanieodea.com. - Lisa Irvine, Official Chief GiveAway Wrangler at stephanieodea.com
Clifton Park, NY (PRWEB) September 20, 2013
Lisa Irvine of Lisa's Blogety Blog is hosting a giveaway from Mohawk Valley Trading Company on stephanieodea.com.
Since 1991 the Mohawk Valley Trading Company has offered the highest quality organic, unprocessed natural products they can produce namely; maple syrup, raw honey, beeswax, beeswax candles, natural skin care products and handmade soap.
The giveaway consists of:

One, 16 oz. Glass Bottle of Grade A, Robust, Dark, Pure Maple Syrup – Value $15.00
One, 1lb Glass Jar of Raw Autumn Wildflower Honey – Value $10.00
One, 1lb Glass Jar of Summer Wildflower Honey – Value $10.00
One, 1.5" x 2.5" Beeswax Candle – Value $10.00
Two bars of Natural Handmade Soap (1 Castile Soap & 1 Goats Milk Lavender Soap) – Value $9.00
Two, 1 oz. Bars of Beeswax – Value $4.00
Total value including shipping…$80.00
To find out how to enter please visit: http://stephanieodea.com/2013/09/review-and-giveaway-mohawk-valley-trading-company-products/.
About:
Lisa Irvine is a stay-at-home mom who enjoys movies, TV, knitting, gardening and traveling. She lives in Upstate NY with her husband and daughter. Since her diagnosis of Celiac Disease in November 2007, she has been living gluten-free in a household of gluten-eaters. It's not always easy, but she manages it day by day. She is always interested in hearing and learning from her readers.
Stephanie O'Dea is a New York Times bestselling author, slow cooking expert, and a mom to three. She is the author of 365 Slow Cooker Suppers, Totally Together: Shortcuts to an Organized Life, and the Make it Fast, Cook it Slow Cookbooks.