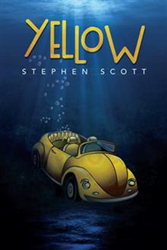 Albuquerque, N.M. (PRWEB) February 05, 2015
Author Stephen Scott designed his new thriller, "Yellow" (published by Abbott Press), around the unique concept of a priest taking justice into his own hands.
When Richard, a priest, learns that his brother has been murdered under mysterious circumstances, he finds that the police are of little or no help. Seeing no other option, he decides to take revenge on his own terms. While Skinner, the local deputy defying his boss, conducts his own investigation, Richard's friend, Stan, tries to dissuade Richard from seeking vengeance. But Richard finds himself intrigued by his new role as a samurai.
An excerpt from "Yellow":
"He checks his watch and stands up. Now we can see he is a big man, powerfully built. He goes to the door of the bedroom and opens it. The curtains at the window are closed and the room is dark. The man peers intently at the bed. Only the tangled hair of the woman lying under the covers is visible. He watches closely to see if the blanket rises and falls. He shakes his head as if to clear it, his fingers go to the amulet hung on a cord around his neck. Then he picks up a duffel bag by the bed and leaves the room."
"Yellow"
By Stephen Scott
E-Book | 218 pages | ISBN 9781458214423
Available at Amazon and Barnes & Noble
About the Author
Born in a French nunnery in China, Stephen Scott was raised on the northwest frontier of India and educated in England. After marrying his wife in a Scottish fishing village, he traveled to New Mexico where he continues to write in a tower by the Rio Grande.
Abbott Press, a division of Writer's Digest – the oldest and most respected publisher devoted to the education and advancement of writers – is an indie-publishing imprint dedicated to helping writers bring their literary vision to print. Author Solutions, LLC, a leader in indie book publishing, will fulfill publishing, sales, and marketing services for Abbott Press. For more information, or to begin publishing a book today, log on to abbottpress.com or call 866-697-5310.
###