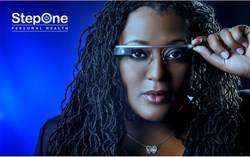 "Like most women my age, I am the chief medical officer of my family, managing health from my children to my parents." Chelia Potts Laurance
Tulsa, Ok (PRWEB) January 29, 2014
StepOneHealth.com is the new destination to find and connect to the best resources. New laws can be written to make services available, but they only work if people will use them. Finding these services, connecting them, and bringing them to the public is how StepOne Health aims to disrupt the traditional process.
"We've built StepOne Health with a commitment to women's health and technology," explained Chelia Potts Laurance, Director of Operations at StepOne Health. "Like most women my age, I am the chief medical officer of my family, managing health from my children to my parents. At StepOne Health, we connect the pieces together to help women complete a health experience for themselves -step one- then for their families."
StepOne Health members get personalized access to specific snapshots called 'experiences'. Gluten sensitivity, food allergies, vitamin D, hormone banking, and PMS are a few of the experiences available during this launch. Each experience is designed to include what is needed to start learning about the topic, to see how it relates personally, and to provide the first steps for improvement.
"As a technology and health consumer, it is important to me that StepOne Health delivers a customer centered product. I'm happy to say that we have been able to use today's technology to revamp the customer experience," explained Cheryl Lawson, Digital Health Concierge at StepOne Health and Founder of Social Media Tulsa. "The ability to: access your health records from any device, participate in a Google+ Hangout on Air via LiveFAQ.com, to ask a question, and to speak directly to an expert are just some of the reasons the SMTULSA community will love StepOne Health. I invite you all to join."
StepOne Health embraces cutting edge technology, and new health care to promote personal health and wellness. The StepOne digital health team will attend the fourth annual SMTULSA Conference in Tulsa, Ok. March 20-21, 2014.
"Everyone who registers for the 2014 SMTULSA Conference will receive an invitation and will be able to meet with the StepOne Health team," Lawson added.
Those not attending the conference can still receive an invitation by sending the official Tweet: "I am ready to take charge of my health with the Science of You @StepOneHealth #SMTULSA."
The first 214 people to do so will receive a complete record with baseline lab panel drawn from their local lab for free.
About StepOne Health
StepOne Health is a marketplace where individuals can find and connect to the best resources available. For too long the old system put all the resources at the wrong end of the health care experience which was after you got sick. The new laws were written to focus on awareness and early detection. The hard part is finding which of these services is right for you and your family. Locating and connecting these services to your personal health is the mission of StepOne Health. To learn more, visit http://steponehealth.com.
About SMTULSA Conference
Social Media Tulsa, Tulsa's social media community, will host the fourth annual SMTULSA Conference March 20-21, 2014. . #SMTULSA is the areas only Conference & Expo for Bloggers, content creators, small business innovators, mobile, and social media enthusiasts.
SMTULSA is a two-day event comprised of keynotes, case study based sessions, a variety of presentations, and an abundance of networking opportunities. Speakers from all over the country will flock to downtown Tulsa, OK to share social media, mobile, and technology strategies that have the capacity to create success for businesses, bloggers, and non-profit organizations. To learn more, visit http://smtulsa.com.