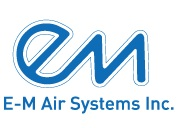 Canadians have a right to be more cautious with their spending
Toronto, Canada (PRWEB) June 10, 2014
E-M Air Systems Inc. (http://www.EMAir.ca), the leading provider of custom commercial, residential, and industrial air conditioning (A/C) and heating repair, maintenance, and installation services in the Greater Toronto Area, is weighing in on the increased costs of energy for Canadians.
Rates continue to increase at rapid speeds, affecting how and where Canadian consumers spend their money, according to a recent Scotiabank report. Canadian household energy bills have gone up by another five percent this year, which the report suggests will divert consumer spending and create a more cautious consumer. (Source: McCarthy, S., "Spiking energy costs cutting billions from Canadian's spending elsewhere: report," The Globe and Mail, June 6, 2014; http://www.theglobeandmail.com/report-on-business/industry-news/energy-and-resources/spiking-energy-costs-cutting-billions-from-canadians-spending-elsewhere-report/article19039822/.)
"Canadians have a right to be more cautious with their spending," says Jack Marrano, owner of E-M Air Systems Inc. "The increase in energy rates can seriously impact a homeowner's monthly costs."
It is believed that the increase in energy rates will outpace the increase in household incomes, causing homeowners' budgets to be even more stringent. Marrano explains that it's unfortunate that homeowners have no control over the rising energy rates, but adds that there are steps that E-M Air Systems Inc. suggests in respect to heating, ventilation, and air conditioning (HVAC) systems that could result in significant savings.
"The first thing that homeowners need to be aware of is when their air conditioner or entire HVAC system is not working efficiently. Administering to inefficient HVAC systems is a good way to start seeing some savings," Marrano notes. "Homeowners need to be aware of some signs that may indicate that their air conditioners are not working properly."
According to Marrano, some of these signals include dramatic increases to energy bills year after year, rooms in the home that are cooler than others, and clammy or moist air despite the air conditioning being turned on.
"It's important that homeowners maintain their HVAC systems. E-M Air Systems Inc. is a company that can assess the condition of HVAC systems and suggest whether replacing it would be best," he adds. "Continuing to run an inefficient air conditioner will actually cost more in the long run than replacing it."
"With the rising cost of energy not showing signs of slowing down anytime soon, consumers have to take matters into their own hands as much as possible," Marrano concludes. "E-M Air Systems is known for its work repairing and installing air conditioners and HVAC systems and will find the best solution to make its heating and cooling systems more efficient."
E-M Air Systems Inc. has been installing custom commercial, residential, and industrial heating, ventilation, and air conditioning (HVAC) systems in the new construction and retrofit market in Southern Ontario since 1987. Because E-M Air Systems Inc. designs every HVAC system it installs and manufactures the duct work in its own sheet metal shop, clients do not have to rely on outside firms for costly blueprints or work; this translates into greater value and the industry's most competitive pricing. E-M Air Systems Inc. is a member of the Heating, Refrigeration and Air Conditioning Institute of Canada (HRAI), the Canadian Home Builders Association, the Workplace Safety and Insurance Board, the Technical Safety and Standards Authority (TSSA), and the Residential Heating Ventilation Contractors Association (RHVCA). To learn more about E-M Air Systems Inc, visit the company's web site at http://www.EMAir.ca or call E-M Air Systems Inc. toll-free 1-800-893-6793.