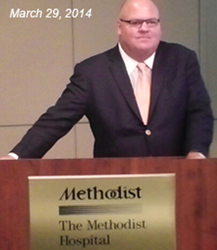 Stow, Ohio (PRWEB) April 18, 2014
On Saturday March 29, Houston Methodist Hospital hosted a Regional Education Summit. Tammy Joubert, President of the Houston Chapter of International Association of Healthcare Central Service Materials Management, was the brainchild behind this patient safety educational initiative. The guest speaker, Rick Schultz, author, inventor and lecturer, lectured for six hours on the subject of Making the Patient Safer Through Effective Surgical Instrument Testing, Inspecting and Instrument Processing.
Tammy Joubert, Director of Sterile Processing, managed and organized this outstanding educational summit inviting personnel from Sterile Processing, Surgery and Infection Control from Houston Methodist Hospital, MD Anderson Hospital, Texas Children's Hospital, Memorial Hermann Hospital, Houston General, Houston VA Medical Center and Texas Medical Center. With over 100 attendees earning Sterile Processing and Nursing credits, the patient-focused educational summit was a huge success.
For more information, please contact Rick Schultz at 330-686-4550 ext. 122 or visit: http://www.rickschultz.org.
About Spectrum Surgical Instruments
Spectrum Surgical Instruments is a leader in partnering with healthcare facilities to provide cost reducing products, education, and services that make patients safer. Spectrum's range of products and services includes surgical instruments, cleaning brushes, instrument accessories, educational programs and a comprehensive array of surgical instrument repair, sharpening and restoration services.
We have taken a leading role in the industry by providing free educational resources about surgical instrument care. The goal is to educate those who come in contact with surgical instruments to ensure that all are aware of the impact they have on patient safety. Our commitment to quality has led us to increase our quality systems and improvement initiatives. We work directly with customers and industry leaders to offer technology, preventive maintenance, and quality products designed to improve patient safety.