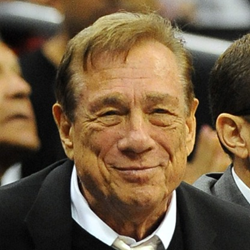 If Donald is unhappy about the sale of the Clippers, he should be questioning the actions of the Sterling Family Trust instead.
Boston, MA (PRWEB) June 11, 2014
On a recent and pleasant Sunday night, millions of basketball fans across the world tuned to watch Game 2 of the National Basketball Association (NBA) 2014 Finals between the Miami Heat and the San Antonio Spurs (1). As the two teams battled on the hardwood in what would be a heart-stopping game that came down to a clutch victory by the reigning champs from Miami, according to CNN, NBA Commissioner Adam Silver looked on from his seat with a studious and slightly concerned look on his face (2).
CNN continued that Commissioner Silver had plenty to worry about during Game 2 of the NBA Finals. A technical issue during Game 1 caused an outage of the air conditioning system, elevating temperatures to 90 degrees Fahrenheit inside the AT&T center in San Antonio and forcing Miami's star power forward Lebron James off the court with cramps (2). Although no such technical issues affected Game 2, Silver still had plenty on his mind; specifically the CNN interview he had just completed, in which he commented on the pending sale of the Los Angeles Clippers to former Microsoft CEO Steve Ballmer for the record sum of two billion dollars.
Speaking to CNN's Rachel Nichols, Silver explained that he was not ready to take a deep breath just yet. Although Silver only recently succeeded David Stern as Commissioner, he has worked for the NBA since 1992 and is familiar with previous attempts to sell the L.A. Clippers, which have ultimately ended up with Donald Sterling pulling out of the deal at the closing table (2). On June 7, the NBA published a report from the Associated Press that underscored the fact that Sterling had not yet signed off on the sale and transfer of the team to Ballmer (3).
In late May, the NBA announced, according to NBC Sports, that it had reached a settlement with the Sterling Family Trust in relation to the sale of the Clippers to Ballmer (4). That announcement was one of many that described the ownership structure of the team; prior to these reports, many basketball fans were under the impression that Donald Sterling was the sole owner of the Clippers.
"Professional teams are often owned by families, and trusts are legal instruments sometimes used for the purpose of establishing and managing ownership," explains Rocco Beatrice of UltraTrust.com. Mr. Beatrice is the Managing Director of Estate Street Partners, LLC, a wealth management and estate planning firm that operates the UltraTrust.com website. "A couple of months ago we saw ownership of the Buffalo Bills of the National Football League being transferred to a trust." Mr. Beatrice is referring to the announcement by the Buffalo Bills management team in the wake of the sad passing of late owner Ralph C. Wilson Jr according to the Buffalo News. (5).
Mr. Beatrice continues: "We are not surprised to see the Clippers held in a trust. Ever since the Sterling saga began to unfold a few weeks ago, our office has received many inquiries with regard to the way that particular trust may be structured. The first thing we need to be clear on is that we can only comment on what we know from news reports; there is nothing concrete or definitive because we don't know if the Sterling Family Trust has been made public. Trusts are private agreements, so nothing we discuss in this regard can be certain. It's also important to remember that there has been quite a bit of upheaval surrounding this pending transaction."
Mr. Beatrice is referring to the ABC News reports dating back to early May, when a young woman by the name of V. Stiviano sat down with legendary journalist Barbara Walters (6) to discuss audio tapes she allegedly recorded while having a conversation with Mr. Sterling about matters of race and ethnicity. The tapes were somehow leaked to the media, and the world heard the shocking and intolerant views on race relations held by Mr. Sterling. Commissioner Silver reacted to the recordings by condemning Mr. Sterling's opinions, fining him $2.5 million, banning him from the NBA for the rest of his life, and forcing him to sell the Clippers (2). On the interview with Walters, Miss Stiviano denied being Mr. Sterling's mistress (6); she said she was his personal assistant and "silly rabbit."
"It sounds pretty silly," comments Mr. Beatrice. "Getting back to the possible trust structure of the Clippers, we have reasons to believe that it is not an irrevocable trust. We think it may be a revocable trust based on news reports that indicate Donald Sterling's diminished mental capacity as trustee." Mr. Beatrice is referring to an ESPN report published by the Washington Post that explained how Mr. Sterling was deemed mentally incapacitated by health practitioners, thus leaving his wife as sole trustee and empowering her to sell the team to Ballmer (7).
Mr. Beatrice expands on his opinion: "So we believe that this is a revocable living trust in which Mr. and Mrs. Sterling were trustees at one point, but a provision of the trust may have Mrs. Sterling fully in control of the trust and the voluntary sale of the Clippers. This legal autonomy to operate on behalf of the trust seems to have been provisioned earlier; Mr. Sterling may not like it now, but it appears to have been there before."
The latest news on the Sterling saga certainly confirm Mr. Beatrice's opinion above: On June 10, CNN reported on a media statement issued by Mr. Sterling through his legal team, and he does not seem to like the status quo. Mr. Sterling now wants to fight the NBA, an entity he believes is administered by "hypocrites, bullies and despicable monsters" (8).
"Those words do not paint the picture of a happy man," concludes Mr. Beatrice. "It sounds as if Mr. Sterling wants to fight the NBA; but, if he is unhappy about the sale of the Clippers, he should be questioning the actions of the Sterling Family Trust instead. Again, let's remember that both revocable and irrevocable trusts are private agreements, Anyone can seek due process and legal relief from the actions undertaken by trusts, but equitable agreements made in good faith are supposed to prevail. If Mr. Sterling at some point agreed to an action that gave the green light to the Sterling Family Trust to sell the Clippers, that action may be irreversible."
About Estate Street Partners (UltraTrust.com):
For 30 years, Estate Street Partners has been helping clients protect assets from divorce and frivolous lawsuits while eliminating estate taxes and probate as well as ensuring superior Medicaid asset protection for both parents and children with their Premium UltraTrust® Irrevocable Trust. Call (888) 938-5872 to learn more.
#
Sources:
1. http://www.nba.com/playoffs/2014/finals/index.html 6/10/14
2. edition.cnn.com/2014/06/08/us/adam-silver-nichols-interview/index.html 6/9/14
3. nba.com/2014/news/06/07/clips-owner-sterling-yet-to-ink-deal.ap/ 6/7/14
4. probasketballtalk.nbcsports.com/2014/05/30/nba-announces-settlement-with-sterling-trust-allowing-clippers-sale-to-ballmer-cancels-vote-on-donald-sterling/ 5/30/14
5. buffalonews.com/sports/bills-nfl/what8217s-next-for-the-bills-for-now-the-team-will-be-controlled-by-a-trust-20140325 03/25/104
6. abcnews.go.com/US/stiviano-donald-sterlings-silly-rabbit/story?id=23576240 5/3/14
7. washingtonpost.com/news/morning-mix/wp/2014/05/30/donald-sterling-reportedly-deemed-mentally-incapacitated-to-own-los-angeles-clippers/?tid=pm_national_pop 5/30/14
8. edition.cnn.com/2014/06/10/us/sterling-clippers-sale/ 6/10/14