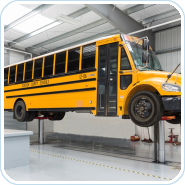 The DIAMOND LIFT delivers quick, wheels-free access to vehicles, making routine maintenance easier to complete.
Stevensville, Maryland (PRWEB) February 02, 2015
Vehicle lift leader Stertil-Koni today announced that the Screven County School System in eastern Georgia has selected the company's DIAMOND LIFT system for use in its recently completed, state-of-the-art school bus maintenance facility.
This new service center, located in Screven County, Sylvania, Georgia, is critical to supporting a fleet of nearly 50 school buses, which in turn travel a combined average of more than 1,400 miles daily and transport approximately 2,600 students.
As part of the process in selecting a heavy duty lifting system, Screven was understandably looking for a vehicle lift that is safe, reliable, flexible and convenient for its techs to use.
Enter the DIAMOND LIFT, a high-pressure, telescopic, in-ground piston lift manufactured in Streator, Illinois with a capacity of 64,000 lbs. for a two-piston configuration or 96,000 lbs., for a three-piston model.
The DIAMOND LIFT series has been designed to overcome the limitations of legacy in-ground piston lifts by applying thoughtful engineering and environmental focus to ensure that hydraulic fluid always remains fully contained and above ground -- in a free-standing console that is easily accessible. In that way, the environment is protected and servicing the lift is particularly convenient.
According to Brett Martin, Director of Operations for Screven County School System, "The DIAMOND LIFT was chosen by Screven County School in part because it provides wheels-free access and doesn't require additional accessories to perform various service tasks." It also features an automatic wheelbase positioning system that enables users to program up to 16 unique vehicle wheelbases into the lift's memory, thereby enabling adjustments through the simple touch of a screen.
Added Martin, "The DIAMOND LIFT delivers quick, wheels-free access to the vehicles we are servicing and that makes routine maintenance, such as servicing brake systems, much easier to complete."
Bringing the new technology to Screven County School System was Heavy Duty Lift & Equipment, Inc. (HDLE), a Stertil-Koni distributor located in Buford, Georgia, that sold and installed the lift. Noted Ian Merrow, Sales Representative for HDLE, which serves the southeastern region of the U.S., "The DIAMOND LIFT system provides a modern, efficient, and safe approach to servicing heavy duty vehicles of all types. It is an ideal choice for the people of Screven and their new facility."
Concluded Dr. Jean DellAmore, president of Stertil-Koni, "The growing success of the DIAMOND LIFT is a testament to our customer-centric approach, which always places customer needs above all else and drives us to continuously deliver the broadest range of high quality, heavy duty lifting systems on the market. We are delighted that the DIAMOND LIFT is proving to be a terrific performer for Screven County School System."
About Stertil-Koni
Stertil-Koni, a brand of the Stertil Group, is the global market leader in heavy duty vehicle lifts – bus lifts and truck lifts – and is the preferred supplier to the world's leading companies in the truck and bus industries. Stertil-Koni's breadth of products meets all ranges of lifting needs and includes mobile column lifts, two-post, four-post, in-ground piston lifts, parallelogram lifts, half-scissors and its innovative axle-engaging, in-ground, scissor lift configuration, ECOLIFT. Stertil-Koni is also now installing DIAMOND LIFT across North America, a full rise telescopic piston lift designed to set new standards in precision heavy duty lifting. Stertil-Koni USA is headquartered in Stevensville, Maryland. Stertil-Koni has production facilities in Europe in The Netherlands, and in the USA in Streator, Illinois.