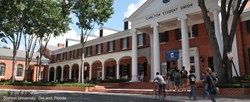 Stetson will now have access to unique resources to develop strategic programs and future engagement with Vietnam and Brazil.
DeLand, FL (PRWEB) November 18, 2013
Stetson's international programs are part of the 2013-2014 International Academic Partnership Program (IAPP), a highly competitive international opportunity administered by the Institute for International Education (IIE). Universities must apply to be considered, and the selection process is rigorous. The IIE review panels for Vietnam and Brazil selected Stetson based on its institution-wide academic strengths that align to priorities and needs of the two countries, as well as socio-economic and environmental issues which Vietnamese and Brazilian higher education institutions are being called upon to support.
The Institute of International Education is a world leader in the international exchange of people and ideas. An independent, not-for-profit organization founded in 1919, IIE has a network of 19 offices and affiliates worldwide and over 1,200 member institutions.
As one of a small number of U.S. institutions selected for these IAPP programs, Stetson will now have access to unique resources allowing the university to develop strategic programs and future engagement with Vietnam and Brazil, to be coordinated by the Stetson University WORLD: International Learning office, in conjunction with Stetson faculty. Through IAPP, Stetson will benefit from high-level access to U.S. government officials, representatives from national Ministries of Higher Education, and many other in-country education and funding-related organizations.
"We were already tremendously proud to be selected for the Vietnam IAPP," said Beth Paul, provost and vice president for academic affairs. "To be awarded the Brazil IAPP at the same time is truly a mark of great distinction for Stetson," she noted. "These successes in a very competitive environment demonstrate the seriousness of Stetson's global engagement, and our effectiveness in connecting with leading institutions in international education. They are very significant 'feathers in our cap' as we enhance the university's relationships in Latin America, Asia and throughout the world."
Vietnam is currently the eighth most popular country of origin for international students in the U.S. The number of Vietnamese students in the U.S. has grown significantly since the late 1990s, and Vietnam has been among the top 20 countries of origin for students since the 2006-2007 year. Vietnam is of interest to Stetson as the university deepens its commitment to diverse international learning opportunities, and offers U.S. students many unique, high-impact experiential learning opportunities that align to Stetson's values, mission and vision.
Latin America, and Brazil in particular, represent other major opportunities for Stetson. In the last year Brazil moved up to become one of the top two countries of origin for international students applying to Stetson, and there has long been strong faculty and student interest in running programs in Brazil, as well as developing more initiatives there.
"Stetson's connections in Latin America generally have been a top priority in the last year, and we have been working with faculty to identify potential institutional partners in key Spanish-language Latin American countries with whom we can re-establish a dynamic presence," said Eric Canny, Executive Director of WORLD: International Learning at Stetson. "The IAPP Brazil positions Stetson to engage with the region broadly.
"Like Vietnam, Brazil represents a tremendous opportunity, which is why we also applied for the IAPP there," said Canny. "As a leading world power and a Portuguese-language country, Brazil is a place we have sought to connect with as an institution. The IAPP is incredibly valuable as Stetson will now have additional powerful resources and relationships we can use to build strategic partnerships in Brazil as we engage with Latin America more deeply."
Since 2009, IAPP has expanded significantly since its inception through a two-year grant from the U.S. Department of State's Fund for the Improvement of Postsecondary Education. To date, IAPP has assisted nearly 80 institutions in partnering with many countries along with Vietnam and Brazil, such as India, China, and Myanmar. Past IAPP participants have successfully expanded their international collaborative activities with their respective focus countries, and have developed new study abroad programs, fostered collaborative faculty research, coordinated joint conferences, and established new courses.