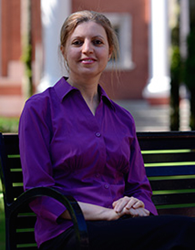 As an academic, I think I have a duty to the computer science research and education communities.
DeLand, Fla. (PRWEB) July 17, 2014
Hala El-Aarag, PhD., associate professor of Computer Science at Stetson University, was elected vice president/president elect of Consortium for Computing Sciences in Colleges (CCSC), a non-profit organization that promotes quality, computer science curricula and effective computing in smaller institutions of higher learning.
"As the consortium is concerned with the advancement of major programs in both computer science and computer information systems, and with the use of computers in the liberal arts and sciences, I will make every effort to make sure that CCSC will always be up to its mission," said El-Aarag who received her doctorate degree at the University of Central Florida. "I will be actively engaged in fostering the goals of the consortium."
At Stetson, El-Aarag teaches computer organization, discrete structures, operating systems, computer networks and mobile computing, algorithms analysis, ethics and technology and other classes. El-Aarag has published numerous research articles on topics such as web cache replacement strategies using simulation and processor design. She continues to research topics such as transport protocols for wireless networks, mobile computing, sensor networks, computer security and evolutionary computation.
In addition, El-Aarag has numerous publications on her hands-on teaching techniques published in prestigious computer science education journals, and has shared her research, her teaching techniques and research methodology with undergraduates in national and international presentations.
Beginning in August, El-Aarag will serve two years as vice president of CCSC followed by two years as president. Her plans include enhancing the professional image of the consortium by "attracting renowned authors in the field to our conferences, working to improve the prestige of CCSC by lowering the acceptance rates of the blind, peer-refereed, professional papers in all 10 CCSC regional conferences, and increasing the awareness of our conferences and opportunities to further engage the computer science community in educational improvements and participation."
As program chair of the southeastern region conference in 2010, El-Aarag reduced the acceptance rate to 50 percent, provided new forums for presentations and spearheaded a move to an online submission and review system.
"I believe that civic service plays an important role in making the world a better place," said El-Aarag. "As an academic, I think I have a duty to the computer science research and education communities. I have been striving to give back to these communities through multiple service activities."
Some of El-Aarag's service activities include general chair of the Society for Modeling and Simulation International (SCS) Spring Simulation Multiconference, national councilor of the Mathematics and Computer Sciences Division of the Council on Undergraduate Research (CUR) and others. Recently, she received the Outstanding Service Award from SCS for outstanding and dedicated technical contributions and services.
"I believe that CCSC fulfills a vital role in the landscape of computer science education and research, and I am happy to contribute to its efforts," said El-Aarag who is increasingly motivated and dedicated to making a difference within her position.
About Stetson University
Founded in 1883, Stetson University in Central Florida is an independent university that provides a transforming education in the liberal arts tradition. Stetson stresses academic excellence and community-engaged learning, and consistently earns high national rankings. In 1982, Stetson was awarded a chapter of the prestigious Phi Beta Kappa honorary society. The College of Arts & Sciences, School of Business Administration and School of Music are located at the historic campus in DeLand. The College of Law is in Gulfport/St. Petersburg. The university also has two satellite centers: the Tampa Law Center and the Stetson University Center at Celebration near Orlando. More information: University Marketing, 386-822-8920. Stay connected with Stetson on social media.